Celtic unhappy at SPL 10 move for structural change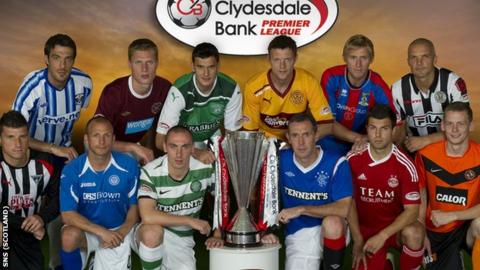 Civil war is threatening to break out in the Scottish Premier League, with Celtic at odds with their rivals over organisational reform.
The 10 clubs outside the Old Firm are to propose an alteration to the league's voting system at a special general meeting on 12 April.
They want a 9-3 decision to push through major change in Scotland's top flight rather than the current 11-1.
The 10 will also seek a more even distribution of revenue.
However, just how they intend to push through these proposals is unclear.
And Celtic are deeply unhappy with the suggested changes.
Sources close to the Parkhead club argue that the Old Firm contribute around 85% of the SPL's revenue, while they are disappointed by the other clubs getting together without consulting them.
Celtic fear that changes to the status quo could jeopardise future sponsorship deals
It has also been suggested that changes to the voting structure or distribution of income could threaten any takeover of Rangers, who are currently in the hands of administrators.
It is understood that potential buyers of the Ibrox club may be put off by any uncertainty over future revenue.
Asked whether the situation threatened potential civil war between the 10 and the Old Firm, one chairman told BBC Scotland: "It's not potential civil war. It's on."
Another chairman added: "I hope it doesn't end up in civil war. You have to ask why Celtic are so upset at changing to a 75% rule that would exist in many other businesses.
"Why are they scared of change and a 75% majority running the league? They will do all in their powers to control Scottish football. They have no concern for Scottish football, only themselves."
He added: "No clubs are of a mind to change the distribution of money that radically changes the situation to the disadvantage of Celtic and Rangers.
"But you have to ask them why do you really need this power?
"We must drive through change in the next 18 months or we will go backwards. What the ten must focus on is to shape the game going forward, to bring the change we know the game badly needs."
A third chairman told BBC Scotland: "The rest of us are fed up of the Old Firm. Forget Rangers for the moment since they are in administration, what we have here is one club dictating to the top end of Scottish football.
"They are not going anywhere, English football doesn't want them and they have done their damnedest to get out of Scotland for the last 10 years. Do they want to play in a league of two?
"We want to change the voting rights to be able to change the game for the better.
"We need to have a stronger championship or SPL2 in place. Relegation can cost clubs £1.5m and we need to provide a softer landing place. We want change for the good of all of Scottish football. This is about democratic change."