Fifa president Sepp Blatter targets 'scourge' of match-rigging
Last updated on .From the section Football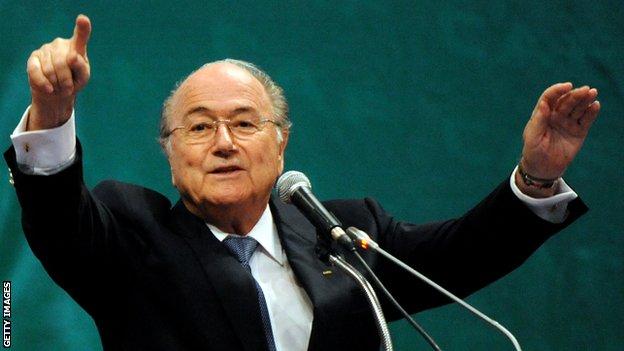 Fifa president Sepp Blatter believes match-fixing is a "scourge" that is undermining football.
Speaking at the Uefa congress in Istanbul, Blatter said: "There is something that concerns this region and that is illegal betting.
"We are working hard against the scourge of match-rigging which is undermining our sport."
Fifa have implemented an 'early warning system' which monitors suspicious betting patterns with international police force Interpol.
Blatter says that the system is paying off, but he also emphasises the need to remain vigilant.
Several of South Africa's games heading in to the 2010 World Cup came under investigation earlier this year, while Peter Taylor's Bahrain are under scrutiny after their 10-0 win over Indonesia in February.
"I am very happy that, together with Uefa and the other confederations, the early warning system we have been working on for one year very closely with Interpol is working," said Blatter.
"Fifa, Uefa and all the other confederations are not responsible for all the evils besetting our world but we must see to it that we stay alert."
Turkey's Prime Minister Recep Erdogan tackled the issue in his address to the Congress but said individuals and not clubs should be punished.
Erdogan also confirmed that Turkey are keen to host the Euro 2022 finals.
"I would like to repeat the request to host the European Championship in Istanbul in 2020," he said.
Uefa will formally start the bidding process next week when all 53 nations will be invited to apply to host the tournament, which will have 24 finalists from France 2016 onwards.