Eddie Mitchell claims Bournemouth season progress
Last updated on .From the section Football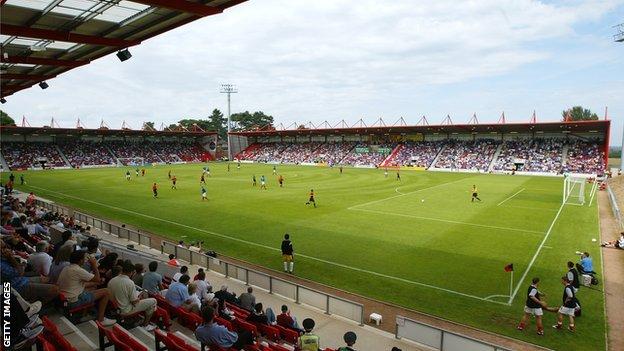 Bournemouth chairman Eddie Mitchell has insisted the season will not be a failure if the Dorset club does not make the League One play-offs.
Tuesday's win over Brentford moved the Cherries to within nine points of sixth place, but Mitchell said qualification is not the only measure of success.
He told BBC Radio Solent: "We've done what we set out to do, we've established ourselves in this league.
"We want success more than anybody but you can't get it overnight."
Mitchell said the club would not give up on making the play-offs until it was mathematically impossible, but whatever happened there was still plenty for Cherries' supporters to look forward to.
"This is my third season in charge and it might not be such an exciting end to the season as in the last two years, but there are still exciting times ahead.
"The record since we've been here has been good and it's going to get better. We've gone a series of games [without winning] but so what, it hasn't been on purpose and you can't always predict where you are going - you can only go out and do your best and I know that is what everybody here does.
"We've got next season to look forward to, the club is in really good shape and we're looking to prosper. We're not wasting money, we're spending a lot on the infrastructure of the club.
"We would just like people from Bournemouth and the surrounding area to support us, because the last three years has all been positive."