Anzhi angered by Lokomotiv's Samba banana row claims
Last updated on .From the section Football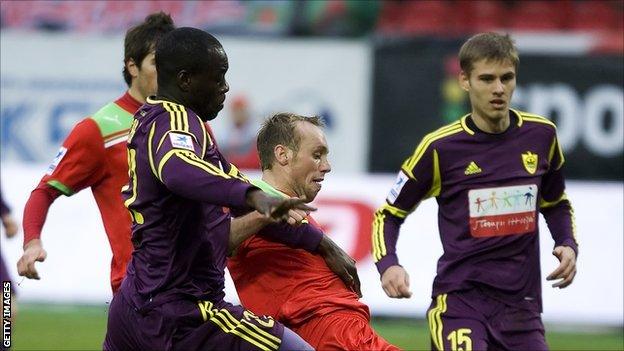 Anzhi Makhachkala have criticised Lokomotiv Moscow's "interference" after the Moscow club claimed its fans did not throw a banana at Chris Samba.
Lokomotiv spokesman Denis Novoselov angered Anzhi vice-president German Chistyakov by saying it was "thrown by a fan of the Dagestani [Anzhi]".
Chistyakov said: "It seems FC Lokomotiv is trying to interfere in the investigation... with this statement.
"We are confident this is nothing but an absolute nonsense and foolishness."
Anzhi had called on Lokomotiv to identify the fan who threw a banana at former Blackburn defender Samba in Sunday's game, which hosts Lokomotiv won 1-0.
Novoselov told the Daily Mail: 'We studied all the video from surveillance cameras, carefully reviewed the testimony of witnesses, and the results of this investigation found that the banana was thrown by a fan of the Dagestani team [Anzhi]."
Chistyakov responded in the escalating row by adding: "We'll wait for the results of the official investigation by RFPL [Russian Premier League].
"In [the] current situation we demand [Lokomotiv] provide us with the conclusive evidence, or immediate and official refutation with an apology to our fans and the club.
"Otherwise the case will be brought before the court and the law-enforcement bodies, not the ethics committee."
Samba joined Anzhi from Blackburn in late February and was playing only his third league game for the club.
The BBC's Rafael Saakov in Moscow says that the All-Russian Supporters' Union has expressed its "appreciation" for Samba's words on how this was an "individual act" and how he didn't "inflate this story to the scale of the universe".