Celtic will contest SPL voting change - Peter Lawwell

By Chick Young
Football Correspondent, BBC Scotland
Last updated on .From the section Football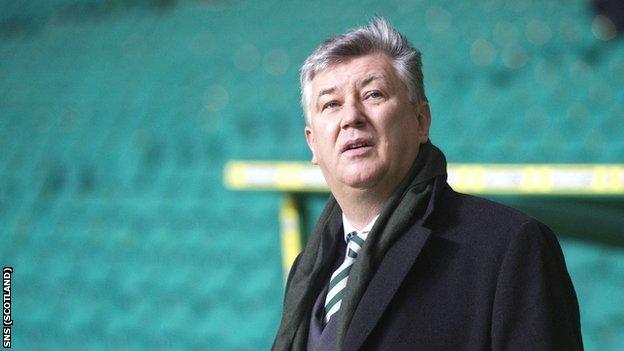 Celtic will fight the 10 non-Old Firm clubs' efforts to change the Scottish Premier League voting structure.
Chief executive Peter Lawwell has described as "disrespectful" the secret meetings of the 10.
They are trying to change from 11-1 to 9-3 the structure which they see as creating a Rangers-Celtic stranglehold.
And it is believed that Lawwell has the backing of the Ibrox administrators and at least some of the potential new owners of the troubled Govan club.
Lawwell said: "They talk of a more competitive league.
"Well, the Icelandic and Welsh leagues are competitive but it is the presence of the Old Firm which makes Scottish football different."
Celtic are adamant that the current voting structure will stay because Rangers will stand shoulder to shoulder with them, alongside Sky Television whose new contract with the SPL has not yet actually been signed off.
As things stand, the SPL's Articles of Association state that 66% of clubs (eight) must agree for an ordinary resolution to be passed.
To pass a special qualified resolution, such as for the expansion or reduction of SPL members, 83% of clubs must agree. That represents a 10-2 split.
However, to pass a qualified resolution, 90% of clubs (11) must be in agreement, which means Rangers and Celtic voting the same way scuppers any change.
A qualified resolution is required for what is being proposed by the 10 non-Old Firm clubs: they want a simplified 9-3 voting structure for all matters.
An angry Celtic chief pledged to take no immediate action against the other clubs but is warning against "legal, commercial and practical remedies to this situation for us".
Lawwell went on: "It is divisive and of concern to every Scottish football supporter at this very difficult time for our game. We could all do without it.
"We are not against protecting the lower clubs.
"We were part of the strategic group that committed to changing the funding for the First Division and also when asked our opinion about the size of the league we said we would be happy to accommodate a league of 14.
"We started with a 10-club idea - 36 games - because that gave us a late start and preparation time.
"But then we - Martin Bain of Rangers and I - were convinced of a 14, in a 6-8 split which also gives us 36 games and the bottom eight 40 games, which is more money for them.
"We also support the idea of play-offs and a pyramid system and parachute payments.
"And then we were persuaded to go back to a 10 for the greater good of others.
"We prefer a late start and a winter break and flexibility of dates so that you are not playing Rangers at noon on a Saturday after coming back from Kazakhstan.
"Not being invited to the meetings of the other 10 clubs is disappointing and disrespectful, given what Celtic and Rangers bring to the game, having spent nearly two years and a lot of time on developing a strategy.
"The quality of Scottish football could be further weakened to the point that we won't have any European context at all."
Celtic also privately feel that if they have lesser income then it is their academy which will suffer first, not what happens to the first team.