Wayne Rooney apologises for breaking nine-year-old fan's wrist
Last updated on .From the section Football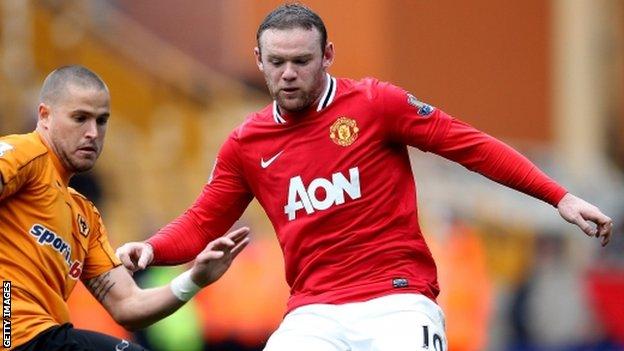 Manchester United striker Wayne Rooney has apologised to a nine-year-old football fan after he broke his wrist with a stray shot.
Jamie Thomas, from Wem in Shropshire, was watching Manchester United for the first time at Wolves on Sunday when the shot hit his arm during the warm-up.
Rooney said on Twitter: "I want to apologise to Jamie Thomas.
"I have arranged for a letter and a signed shirt to be sent to his home address."
It is not thought that Rooney was aware of the incident at the time.
Jamie's father, Andy, said the injury happened when Rooney and Javier Hernandez were taking shots at goal. Rooney missed the target and the ball headed towards Jamie.
He put out his hands to stop it hitting him and it broke his wrist.
Thomas Sr told the Shropshire Star: "It shook him up a bit but he's fine about it now and I don't think it's put him off going to other games.
"I don't think Rooney realised what he had done, otherwise I am sure he would have come over."
Hernandez scored twice in the match as United went on to win 5-0.