Has England boss talk triggered Tottenham dip?
Last updated on .From the section Football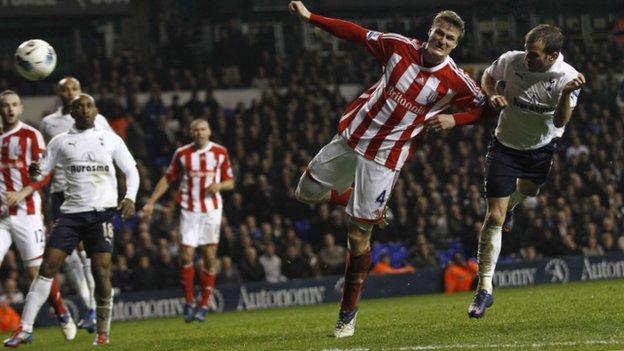 If you are a Football Association bigwig or a Tottenham fan brace yourself for an uncomfortable statistic.
Since Fabio Capello resigned as England coach, Spurs have picked up only 0.8 points per game. Before the Italian left these shores - and the Tottenham manager Harry Redknapp became a shoo-in to replace him - Spurs had been averaging 2.1 points per game.
That impressive points average had the media salivating over the style and swagger of Redknapp's side as Spurs briefly threatened to break up the Mancunian duopoly of the Premier League title race.
Even when Spurs's title bid faltered, Redknapp's side still looked strong favourites to finish third, even more so when Tottenham led Arsenal 2-0 just before half-time at Emirates Stadium on 26 February.
We all know what happened next. Spurs shipped five goals to lose that game 5-2 and have managed to pick up just one point in 12, while they only narrowly avoided a fourth successive league defeat on Wednesday, grabbing a late equaliser against Stoke.
"Being 2-0 up against Arsenal and losing 5-2 has had a significant impact, because momentum is critical," said John Scales, who played for Spurs between 1996 and 2000.
"They've had some tough games, playing Everton away who were on a run of six without defeat in the league, Manchester United and Stoke who are like running into a brick wall."
Tottenham currently occupy fourth spot, five points ahead of Chelsea, but with a game against Roberto di Matteo's team at Stamford Bridge coming up on Saturday, the worry is that Spurs's current form could lead to them missing out altogether on Champions League qualification.
Earlier this month Alex Horne, general secretary of the FA, insisted England's governing body did not want "to interrupt anyone's season" as it went about the task of replacing Capello, no doubt conscious of just how financially lucrative Champions League qualification would be to Spurs.
"It would be better if there was some certainty about the Harry Redknapp situation so the club could look forward," added Scales.
"Harry being linked with the England managerial role will be a factor. Just how significant that is nobody can put a finger on but it won't have helped."
However, former Spurs manager David Pleat scoffed at the suggestion that Tottenham's recent dip in form was due to the players being unsettled by the speculation surrounding Redknapp's future.
"Only a player who doubts his own ability would be unsettled that Redknapp might leave White Hart Lane," said Pleat, who managed Spurs between 1986 and 1987 and was also caretaker on three occasions as well as acting director of football.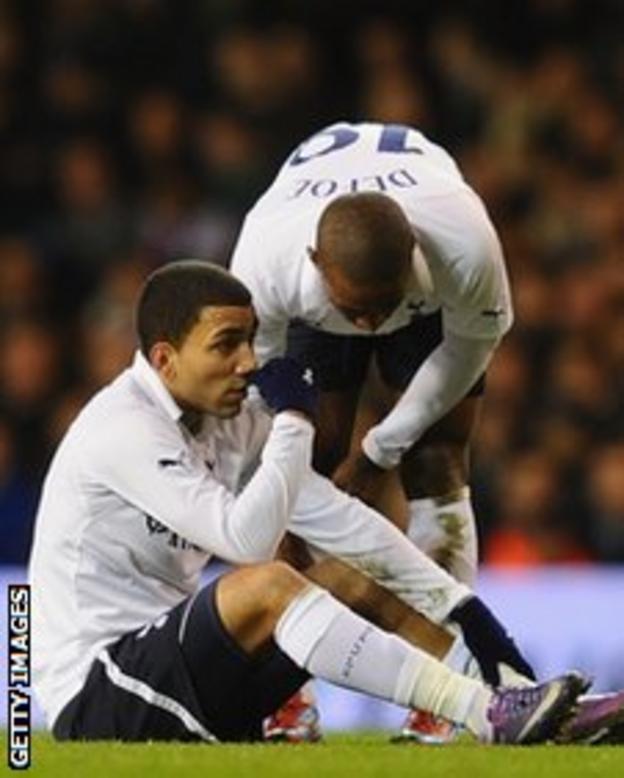 "A top player wouldn't worry at all. They know their contract is safe and, because of their ability, that they would get a job at any professional club if they were transferred. When a player crosses that white line they only think about football.
"The only time a player has told me his performance was affected by external concerns was when I was Luton manager and a player who was moving to the United States made a mistake that led to a goal and later suggested he had been worrying that he hadn't sorted out selling his car."
Scales is less convinced by that argument.
"It does affect the players when there is uncertainty at the club. Players are thinking will Luka Modric and Gareth Bale be staying at the club and even if they are distracted slightly from their main focus it can make a huge difference.
"But nobody can pinpoint any one thing - you have to see the big picture - you have to be lucky with injuries, gain confidence from being on a good run and have no other distractions."
Pleat argues that Spurs's three consecutive defeats - to Arsenal, Manchester United and Everton - did not come as a major surprise given the recent excellent form of those three teams.
The former Tottenham manager pinpoints Aaron Lennon's absence due to a hamstring injury as having unsettled Spurs because he provides speed on the right, but also shape to Redknapp's team.
The loss of Michael Dawson, probably for the rest of the season, because of an ankle injury has also been unsettling.
"If you lose key players it does have an impact. I think it is significant that Arsenal's results have picked up since they have had a settled side, particularly with the partnership of Thomas Vermaelen and Laurent Koscielny in the centre of defence."
Scales believes that Saturday's match against Chelsea will provide compelling evidence as to whether Spurs can qualify for the Champions League.
"It's partly the stage of the season with Arsenal and Chelsea on their coat-tails and it is about having the mental strength to cope under pressure. I've said before I don't think Manchester City will win the title because they don't have the mental edge."
Pleat concurs on the significance of Saturday's match at Stamford Bridge: "The Chelsea game will be absolutely vital. The position is not irretrievable if they don't win, but you have to start thinking how they would revive."