Brendan Rodgers says Swansea will grow in Premier League
Last updated on .From the section Football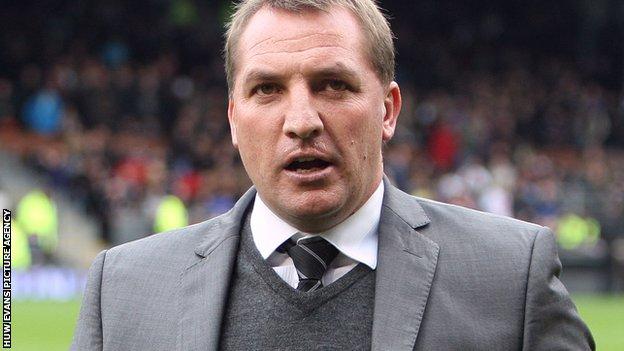 Brendan Rodgers believes Swansea can establish themselves as a Premier League club over the coming seasons.
The Swans are currently eighth in the table and have all but guaranteed top-flight survival.
And the Swansea boss says his side can follow the lead of Stoke and establish themselves in English football's top flight.
"I believe over the next two to three years we can really settle into the league," said Rodgers.
"I see us really growing over the next couple of years.
"Our first job was to sustain at this level. It's a very difficult league and demanding league. Stoke have done a fantastic job in the last four seasons.
"But for us we'll have to do it our way. We won't try and copy or try and be anyone else. We'll do it the Swansea City way."
The 3-0 win at Fulham last Saturday was Swansea's third consecutive victory in the Premier League.
Victory over Everton at the Liberty Stadium on Saturday would see them record their best run of top-flight results since the 1981-82 season under John Toshack.
But Rodgers is predicting a stern test against Everton, a side Swansea have never beaten.
"David [Moyes, Everton manager] has done a brilliant job there over a number of years and has made them very competitive and the team is a hallmark of what he has put in place," he said.
"No matter what team he plays they are hard to beat and breakdown, so all the positive elements of our game need to be in place.
"But we feel every home game is an opportunity for us with our wonderful supporters behind us here."