Plymouth Argyle owner James Brent raises £700,000 for club
Last updated on .From the section Football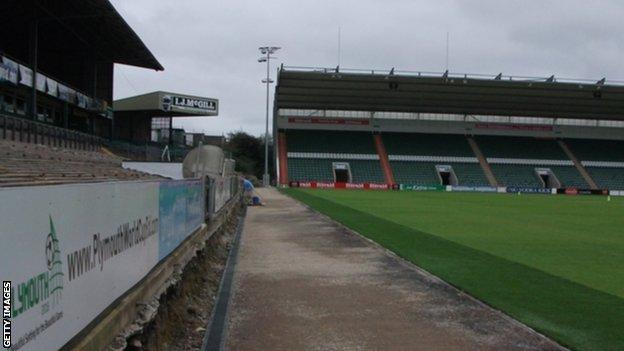 Plymouth Argyle have raised more than £700,000 in extra funding.
A firm run by Brent, Holliday and lawyer Anthony Vaughan has bought land at Home Park for £425,000, with Brent taking an 82.5% stake in the firm.
Holliday and Vaughan have also bought shares in Argyle worth £275,000.
The land has been brought by Brent's Akkeron Leisure, which is part of the Akkeron Group which took control of Argyle last autumn.
The group has also agreed that it will build a new grandstand at Home Park to replace the Mayflower Stand at no charge to the club or give Argyle 50% of the profit it receives if it fails to build the structure.
"This transaction further strengthens the financial position of the club," Brent said in a statement.
"In addition, it represents the next step in delivering to the football club a new grandstand of which the club, city and region can be proud."
Fellow director David Felwick says the club has been paid the full value that the land was worth.
"The football club has not only received full value for the land today but has also secured the right to have a new grandstand built or, failing that, receive profits from any development.
"In this way, Plymouth Argyle will receive benefit from any development but will bear none of the costs or risks associated with it," he said.