Leon Britton signs three-year Swansea City deal
Last updated on .From the section Football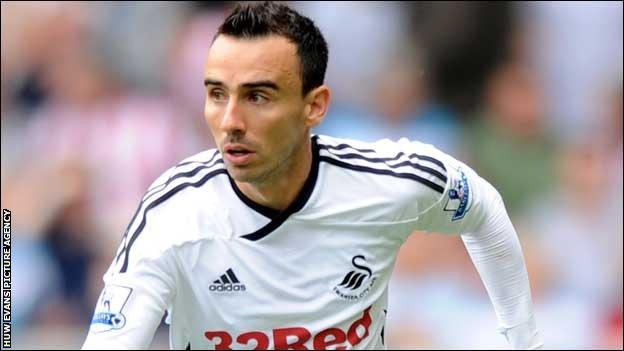 Midfielder Leon Britton has signed a new three-year Swansea City contract.
The 29-year-old, whose previous deal was due to expire in 2013, has agreed a deal to keep him at The Liberty Stadium until the summer of 2015.
And Britton, who started his career at Swansea in December 2002 when the club were in Division Four, wants to remain in south Wales until he retires.
"I want to stay here as long as I can, hopefully the rest of my career, I'm absolutely over the moon," he said.
"I'm pleased to complete the deal," said Britton.
"It was an easy decision for me to make."
Swans boss Brendan Rodgers also confirmed recently that winger Scott Sinclair, whose current deal expires in the summer of 2013, has also started "light talks" on a new contract.
Britton is the most accurate passer in the Premier League and the 5ft 5ins defensive midfielder provides the fulcrum for Swansea's dominant and attractive passing style.
Britton is among the top passers in his debut Premier League season and the 1,573 completed passes he had completed before their loss to Everton boasted an unrivalled success rate of 93%.
Rodgers has hailed the former West Ham United trainee as the new "reference point" for small British footballers after an "incredible" season.
And Rodgers certainly believes Britton has an important part to play in Swansea's future.
"In the British game he really is a reference point now for players of that type," said the Swansea manager, who signed a new long-term deal in February.
"Players that for many years were discarded because they were too small and highly technical.
"He is performing consistently and making up to 100 passes a game which is phenomenal for a player at this level."
Britton first joined Swansea on a season-long loan in December 2002 - on the advice of fellow West Ham academy graduate and current England international Frank Lampard - when the Welsh club were in the bottom division.
And the London-born player signed permanently in the summer of 2003 following his release from West Ham and after Swansea had escaped relegation to the non-league on the final day of the 2002-03 season.
Britton, who had a six-month spell at Sheffield United between August 2010 and January 2011, has played in all of the divisions with Swansea in their rise to the Premier League.
"I never dreamed I would be playing in the Premier League with Swansea when I made my debut at Exeter," said Britton.
"The club and I have improved over the years. It has taken a while to get here and at 29 I have finally got my chance in the Premier League.
"I want to make up for lost time so I want to keep fit, live my life right and spend as much time in the Premier League with Swansea as I can."