Malky Mackay backs 'fearless' Cardiff to play-off push
Last updated on .From the section Football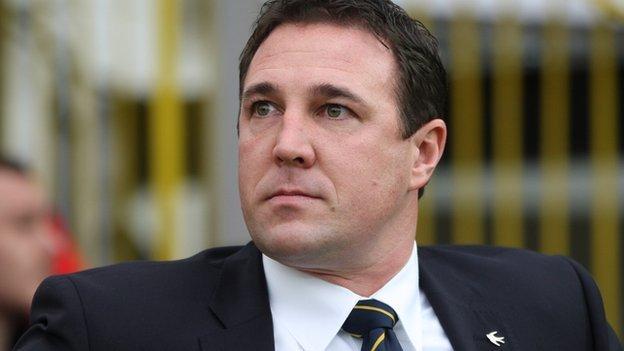 Cardiff City have nothing to fear from their final eight opponents in the race for a Championship play-off place, according to manager Malky Mackay.
The Bluebirds, in eight place, have suffered a slump in form since qualifying for the Carling Cup final, winning only two of 11 league games.
But Mackay's side are just a point outside the top six, with a mere three points separating places nine to four.
"We have absolutely everything to play for and no fear," said Mackay.
"Absolutely no fear. We've played everyone, we know exactly the measure of who it is we have to play."
Cardiff's next two away games, the first being at Birmingham on Sunday, are arguably their toughest assignments of the end of season run-in.
Birmingham's superior goal difference currently keeps them above Cardiff in seventh place, while Mackay's following game on the road will be at sixth-placed Middlesbrough.
The rest of the fixtures are against teams who are below them in the table as things stand.
"They're all going to be tough games but Manchester United aren't there among them," added an upbeat Mackay.
"We're not playing the two form teams so to speak in Southampton and Reading - we don't have them to play.
"We've got tough, tough games to play but we're up there with eight games to go.
"It's absolutely something I'm looking forward to and the boys are looking forward to. It's a challenge we take head on."
Cardiff's poor run has coincided with a barren spell for principle striker Kenny Miller.
The Scotland international, who could miss the trip to Birmingham with an ankle injury, has failed to score in his last 12 games, leaving his tally for the season on 10.
But Mackay says Miller's self-belief will not be diminished by the lack of goals and backed the 32-year-old to play a pivotal role in the final push for promotion.
"It's not something that has ever affected him before," said Mackay, who revealed he was frustrated in his efforts to sign a player on loan from a Premier League club before Thursday's deadline.
"He's gone through patches [like this] in his career. He's an experienced striker so I don't expect it to be any different here."