Stuart McCall's sole concern is for Motherwell

By Liam McLeod
BBC Scotland
Last updated on .From the section Football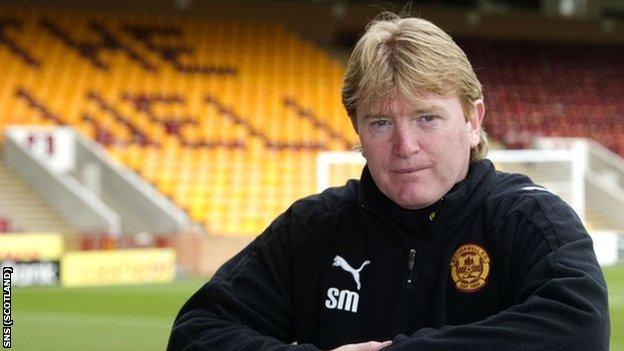 Motherwell boss Stuart McCall insists it is down to Rangers, and not his team, to stop a Celtic Scottish Premier League title party at Ibrox on Sunday.
If McCall's high-flying side drop points away to Kilmarnock on Saturday, Celtic can wrap up the championship at the home of their biggest rivals.
But the Fir Park manager's only concern is his own team's score as they make a push to finish in second place.
"When it gets to Sunday, it'll be down to what Rangers do," said McCall.
"If they want to stop Celtic this weekend, that's still in their own hands, but we're just focused on what happens at Kilmarnock."
McCall - who won six Scottish Premier League titles with Rangers in the '90s - is determined to rub salt into already gaping Ibrox wounds by taking the runners-up berth.
"Our aim is to finish as high as we can," McCall told BBC Scotland.
"Even though I keep playing it down, the opportunity is obviously there to finish second.
"What I am wary of is taking my eye off the ball by looking too far ahead and allowing the likes of Dundee United, Hearts and St Johnstone to nibble away and catch us.
"Now, if we can put another three-pointer on the board on Saturday then we would be looking more assured of at least third position."
McCall could become the first Motherwell manager to take the club into Europe's premier club competition, should they finish at least third with Rangers hamstrung by administration.
But the 47-year-old remains cautious about their chances despite the 12-point cushion they hold over fourth-placed Dundee United.
"Hand on heart, we haven't discussed Champions League football, we haven't discussed finishing second," he said.
"At the beginning of the season it was finishing in the top six, that was the aim.
"Halfway through the season, because it was such a good start, we wanted to reach Europe.
"Now we sit in a position where everybody would be very disappointed if we didn't finish third, so we've got to make sure we cement that.
"But while the opportunity's there to finish higher than third, we've got to give it a go."
Motherwell will take on a Kilmarnock side who have had a week of mixed emotions.
The Scottish Communities League Cup will be paraded by injured skipper Manuel Pascali.
A minute's silence will also be held pre-match as a mark of respect for Killie midfielder Liam Kelly's father, who died after suffering a reported heart attack after their 1-0 Hampden win over Celtic.
McCall admits it must have been a bittersweet week at Rugby Park.
"It must have been horrendous for the kid and he's had a terrific season," McCall added.
"I'm sure it'll be mixed emotions with the trophy being brought out before the minute's silence.
"But, once the game starts, I'm sure it'll be two good sides going for a victory."