Jack Wilshere should be fit for Euro 2012 - Arsene Wenger
Last updated on .From the section Football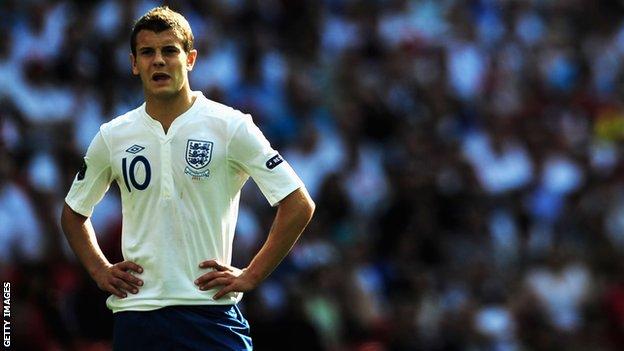 Arsene Wenger believes Jack Wilshere could make a late push for England's Euro 2012 squad as he continues his rehabilitation from an ankle injury.
"The next three weeks will decide what happens. His last scan was positive so he should play," Wenger said.
However, the Gunners boss fears playing for Great Britain at the Olympics could wreck Wilshere's start to next season.
If the final stages of the midfielder's rehabilitation go well, he could be involved with Arsenal's last three Premier League games of the season, against Stoke, Norwich and West Brom.
That would provide the perfect opportunity to make his case for a spot in the England squad travelling to Poland and Ukraine this summer.
"Wilshere going to the Euros is a decision that fortunately I don't have to make," said Wenger, who has been cautious not to rush the player back into action too quickly.
"I would only intervene if I believe that medically he's at risk.
"As an English player, if he's played some games before the end of the season, it's a possibility.
"We'll see how well he progresses. We've taken a very cautious approach with him. We'll not force him into training with any pain, so it might have to be slower than expected.
"In three weeks he can be back with the [Arsenal] squad - if all goes well - and then another two weeks to get fully fit."
Despite his support for Wilshere's Euro 2012 hopes, Wenger is adamant he does not want the 20-year-old representing Great Britain at the Olympics.
"The Olympics destroys the start of the season for us. If he could play, we would rather he went to the Euros than the Olympics," said the 62-year-old.