Brendan Rodgers bows to Everton's experience
Last updated on .From the section Football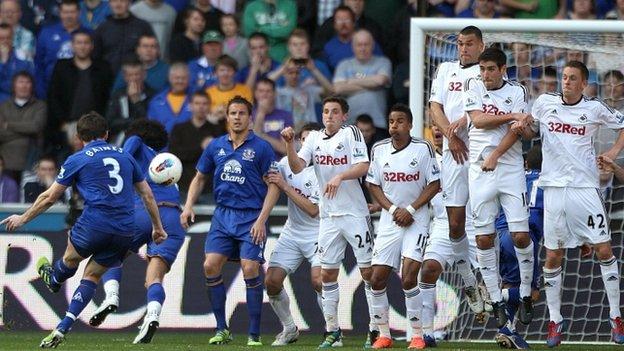 Swansea City manager Brendan Rodgers says his players will learn from the home defeat to Everton as he conceded the better team won.
"It's credit to Everton. They did very well," said Rodgers after the 0-2 loss.
"They were very well organised and David [Moyes] is an outstanding and experienced manager at this level.
"But for us it was a day of learning. We were playing against some very experienced players but my players have been absolutely fantastic this season."
Everton became only the third team to win at the Liberty Stadium in the Premier League this season, and ended the home side's run of three successive victories.
A sublime Leighton Baines free-kick broke the deadlock early in the second half and Nikica Jelavic doubled the lead as the visitors dominated as the game progressed.
The home side were the better side for the opening half hour, but Everton's high pressing game eventually paid dividends by disrupting Swansea usual flow of possession from defence into midfield.
"Of course Everton pressed on to us but I thought we had some great moments in the game," added Rodgers.
"The players showed great arrogance with the ball at times, even in really tight situations, and they kept their belief. It just wasn't our day.
"We're disappointed with the goals, we felt we could have done better. We switched off on the first one and the second one we can defend better.
"But I can't be critical of them. We're till in the top 10 and for us the bigger picture is it's a wonderful achievement so far.
"But the day wasn't our day and Everton ran out deserved winners."
Ashley Williams conceded the free-kick that led to Baines' opener and was then outmuscled by Marouane Fellaini in his own area for Jelavic to score the second.
"We're obviously human beings," said the centre back, who returned to the side after missing last week's 3-0 win at Fulham with a virus.
"We play a sport and we can't always perform, especially in a team sport. That happens and we're not getting too down about it.
"We didn't play well. Individually I don't think many of us can be happy with the way we played and as a team we're not happy, but we can't always play at the peak of our game."