Fabrice Muamba can stay at Bolton for 'as long as he wants'
Last updated on .From the section Football
Bolton chairman Phil Gartside says the club will find a role for Fabrice Muamba even if his playing days are over.
"He will be here as long as he wants to be," Gartside told BBC Radio Five Live.
"It is all about Fabrice. It is not a football story, it is a Muamba story."
Zaire-born midfielder Muamba has made 148 appearances for Wanderers since joining from Birmingham for £5m in June 2008.
Players from both teams in the Lancashire derby wore shirts with "Muamba 6" on their backs during the warm-ups.
Gartside, 70, also admitted he had been surprised by the "outpouring of emotion" caused by Muamba's plight.
"It has been a hard week but I haven't had a terrible week. I have had an amazing week. I feel privileged to have been in the middle of it," he added.
"We have gone through the full capacity of emotions and thankfully, we are smiling at the end of it.
"Fabrice is still very ill in hospital but from where we were last Saturday night it's been an amazing journey.
"We've had letters, calls, emails. The outpouring of emotion this has caused has been amazing."
Meanwhile, Bolton midfielder Nigel Reo-Coker has described Muamba's collapse as a "life-changing" event and spoken of his relief at seeing his team-mate on the road to recovery.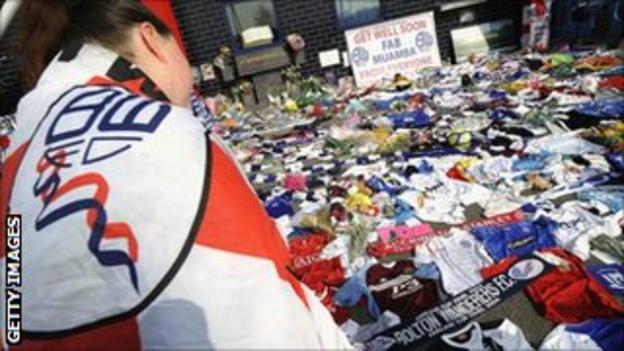 He said: "After everything you've heard that his heart wasn't beating for 78 minutes to hear that he's alive and to see him at the hospital is enough for me.
"After how we witnessed him on the pitch and being wheeled to the ambulance, to know that he was alive is a miracle.
"It feels like the weight of the world has been lifted off your shoulders.
"It's going to be emotional from now to the end of the season. My life changed on Saturday and I believe it's the same situation for a lot of the players who witnessed that.
"One minute I was playing with Fabrice and he was laughing and smiling. The next minute he drops and goes into cardiac arrest.
"There were no signs, so there was nothing anyone could do - it just shows how precious life is."