Kilmarnock manager Kenny Shiels subdued over victory
Last updated on .From the section Football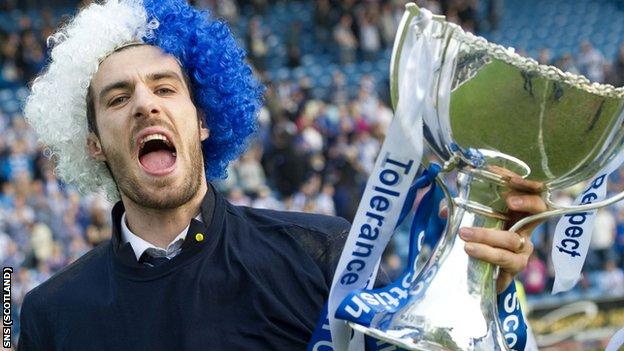 Kilmarnock manager Kenny Shiels found himself unable to celebrate Kilmarnock's 2-0 win against Motherwell after the week's turmoil.
Liam Kelly was absent from the side following the death of his father after Sunday's League Cup final victory.
"It's been a really hard week. I'm exhausted," said Shiels
"I don't think I've slept three hours all week. We've come off a high, we've been on a low and now we're back on a high again."
Two second-half goals from Paul Heffernan - one from the penalty spot - beat Motherwell to hand Celtic the opportunity to clinch the league title at Ibrox on Sunday.
However, the Kilmarnock players walked around the pitch at the final whistle to modestly celebrate Sunday's historic win.
Shiels said the players and staff at the club had found it difficult to take any joy from the week's events given the sadness that had engulfed the club in the past six days.
"It's really hard, because the emotive side of it is very difficult," said Shiels.
"Your heart and your emotions are haywire. It's difficult to explain, the emotion that we're going through.
"When you lose one of your family, and he's not here again - I really wanted Liam to be here to celebrate. He missed all of that."
Ahead of the match, one minute's silence was observed for Kelly's father and the Motherwell fans shared in the occassion with their own respect on the anniversary of Scotland legend Davie Cooper, who died 17 years ago on Friday.
"The Motherwell fans were amazing," said Shiels. "They can draw some parallels with us because they're from a small town and they've boxed above their weight the way we have.
"They have an affinity with us. Their silence was impeccable. It's testament to how much respect they have."
Understandably, Shiels was keen to avoid talk of Kilmarnock's achievements but insisted that his players and the club had demonstrated their resolve through their hard work on the puitch to achieve the win against Motherwell.
"It was difficult for our guys today," said Shiels. "It was an abnormal situation because of the emotions of the week, but they showed strength of character.
"You never know what way it's going to go, but the performance was very good - I must say.
"I'm proud of them, I'm so emotional I could cry. I feel like celebrating, but there's something inside me that's stopping me.
"I'd love to celebrate in a way that I could be totally happy, but there's a vacuum inside that's holding me back."