Kilmarnock's Michael Johnston eyes 'Arab Spring' in SPL
Last updated on .From the section Football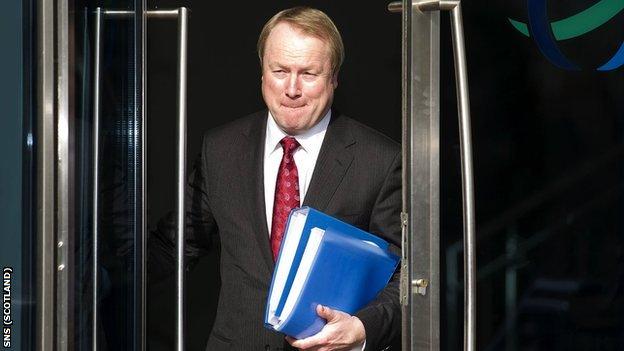 Kilmarnock's Michael Johnston has compared the campaign to change the voting rights in Scotland's top flight to Arab pro-democracy movements.
The 10 non-Old Firm clubs want to change the 11-1 majority required for major Scottish Premier League changes.
"The Arab Spring has reached Scotland," Johnston told BBC Radio Scotland's Sportsound programme.
"So hopefully we can be as successful as some of the pro-democracy movements elsewhere.
Johnston rejects Celtic chief executive Peter Lawwell's suggestion that the 10 clubs were being disrespectful to his own club and Rangers by discussing the matter in the Old Firm's absence.
"Principally, this is about a measure of democracy that's been lacking in the SPL in its decision-making processes," said the Kilmarnock chairman, pointing out that the Old Firm clubs have themselves met in private.
"So this is the pro-democracy movement. It's not a gang of 10 or anything subversive.
"It's all up front and it's perfectly open what we've been talking about, so there's nothing hidden or disrespectful about it.
"If 10 clubs meeting together to discuss common interests is disrespectful, I would have thought that constantly talking about moving to England or some place in the North Atlantic is even more disrespectful."
Johnston also rejected the suggestion that the 10 clubs want to revert back to sharing home gates, pointing out that "five or six" of those clubs would also be against such a move.
He said that a change in the voting system will be the only matter on the agenda when all 12 clubs meet on 12 April to discuss the proposal.
However, he admitted that the 10 clubs saw the present voting system as a barrier to introducing what they view as a fairer distribution of television and other revenues and a possible reorganisation of the league structure.
"That's the tragedy of the situation that we have this oppressive regime at the moment where you require an 11-1 majority in order to achieve any major change and that can't be healthy for any organisation," he said.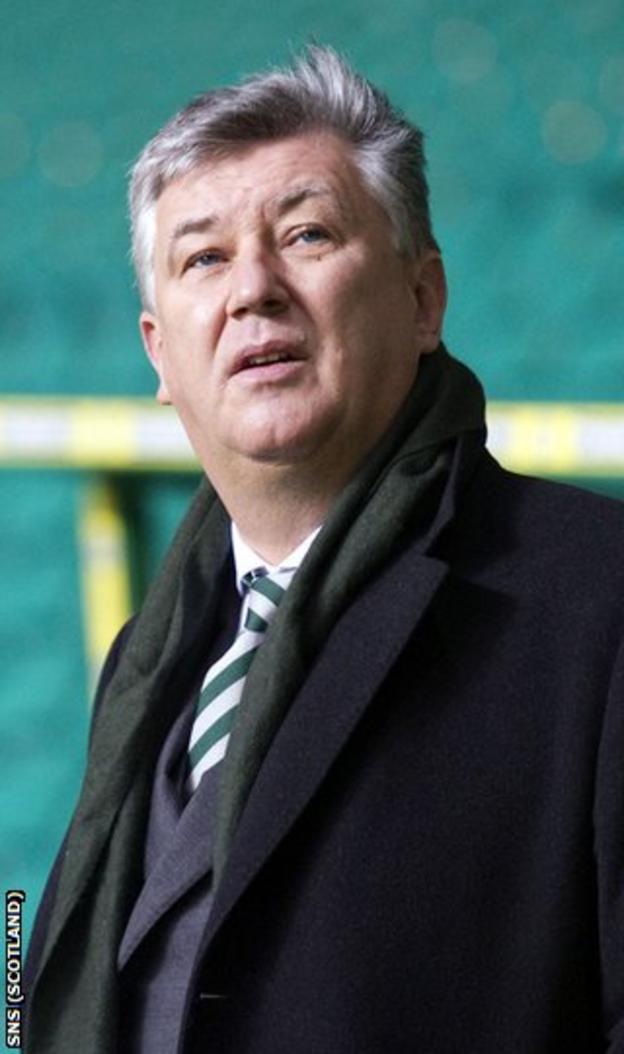 "There's definitely a mood for change and, if we're going to have radical change, then there has to be a more flexible voting structure."
Johnston admits that the clubs have seized on Rangers going into administration as an opportunity to force through change.
"Celtic is a tough call, but we knew that and that is why we have not engaged with them," he said. "The administrator is in a different position.
"It might make it easier for the administrators to get whatever they are going to try to achieve whether it is a CVA or new company to be informed and rejoining the SPL and SFA.
"The support of the 10 clubs might be needed at some point."
Johnston rejects the suggestion that television companies would be less interested in an SPL should there be a more equal distribution of revenue.
"Anything that makes the smaller clubs more competitive is going to lead to a better competition and hopefully make it a better viewing spectacle for Sky, ESPN and the BBC," he said.
Lawwell said this week that he might now support an expanded SPL and Johnston said he was surprised considering the previous statements by the Celtic chief executive and his former Rangers counterpart, Martin Bain.
"I'm interested to hear that comment because it is certainly something I have not heard from him before," added the Kilmarnock chairman.
"He and Martin Bain were always of the view that their share of the SPL revenues would remain and any financial modelling that I've seen in all these strategic reviews and plans brought forward by the SPL and by the SFA have retained the top two clubs getting 32% of the SPL revenues."