Man City coach David Platt rejects 'mind games' talk
Last updated on .From the section Football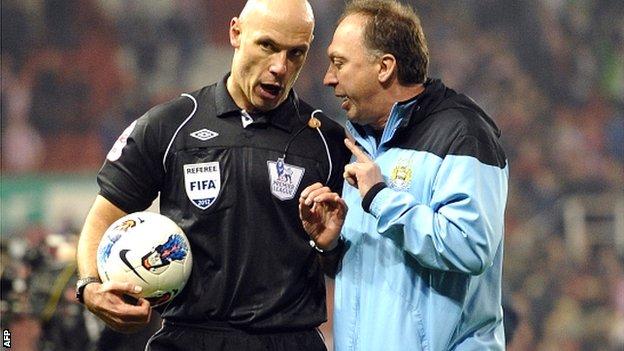 Manchester City coach David Platt has dismissed suggestions his side have been affected by so-called mind games with title rivals Manchester United.
"It doesn't matter what the ammunition is and what words are said, it is all about amassing points," Platt insisted.
"It is not about winning leagues because of mind games," he added.
"It is about players going on to a pitch to play football and gain points."
The exchange of words began last week when City's football development executive Patrick Vieira told the Daily Telegraph that United had shown signs of weakness by bringing Paul Scholes out of retirement.
United boss by saying City's recall of Carlos Tevez, who spent three months in Argentina without permission earlier this season, was a better example.
In addition, United defender Rio Ferdinand observed that Manchester City fans had appeared "out of the woodwork" following the club's recent rise to prominence.
Platt, who was addressing reporters after City manager Roberto Mancini refused to speak to the media, continued: "If we have more points than them at the end of the season everyone will perceive that Robbie has won the war of words.
"If it is the other way round, people will perceive Sir Alex has won it - but it is inconsequential really.
"It is about what both teams do on the pitch."
Meanwhile Stoke striker Peter Crouch, who opened the scoring at the Britannia Stadium with a spectacular 25-yard shot into the top corner, admitted it was "probably the best" goal of his career.
"Every day in training I practise volleying," he said. "It's something I've always enjoyed doing since I was a kid.
"When the ball dropped, I tried to pop it up and try a volley technique. I do it a lot, though they don't always fly in like that."