Rangers: Singapore group becomes fifth bidder for club
Last updated on .From the section Football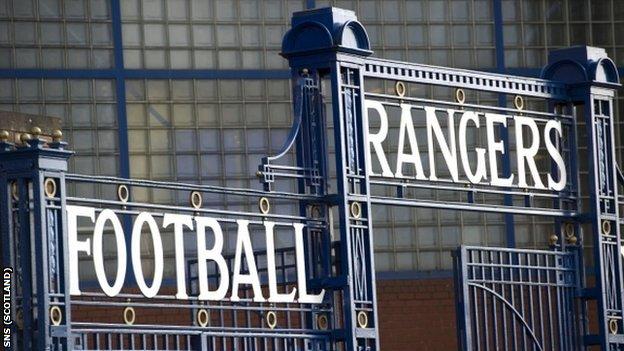 Rangers' administrator aims to have new owners in place by the end of the season after receiving a fifth bid for the club.
Duff and Phelps has received an offer from a Singapore-based consortium.
And joint administrator Paul Clark said: "What we want to do is analyse the bids.
"And I would suggest we will be moving to a shortlist that might be two or three bidders at some point next week."
Former Rangers director Paul Murray's Blue Knights consortium, Sale Sharks owner Brian Kennedy, United States-based Club 9 Sports and a UK-based consortium had already indicated their interest before the latest approach from Singapore.
The Bakhsh Group, a Glasgow-based property, education, transport and printing company, is acting as middle-man for the latest bidder.
"Our preference would be for somebody else to be in control of the football club other than us by the end of the season so they have got the whole close season, the whole transfer window, they have got proper preparation for the new season," said Clark.
Murray's bid is in conjunction with Ticketus, who own the rights to £27m of season tickets for the next three years, but Clark feels a court ruling on the contract on Friday has given them the power to cancel that deal.
"What it means is that the destiny of Rangers' season tickets are now in the club's own hands and gives the ability to properly assess the competing bids," the administrator added.
"Let's be clear on what the decision means - it gives us the power, if we think it is necessary and in the best interests of the creditors, to cancel the Ticketus rights to the season tickets.
"It doesn't rule out a deal with the Blue Knights, but what it does mean is we may not be able to do a deal right away because of the other competitive bids.
"We now need to take a proper look at them all. Really, the decision is a bit of a game-changer for the other bidders because, with Ticketus in place, few, if any, of them would have put forward a sensible bid because of the loss of the season-ticket revenue.
"It now gives a better assessment across the whole piece. Just to be clear, we haven't cancelled the arrangement at the moment.
"It's just if we feel it is necessary. At the moment, they still do have the rights, but it gives the ability to cancel and then I think they would be a creditor."