Saints striker Greg Draper fires New Zealand to London Olympics
Last updated on .From the section Football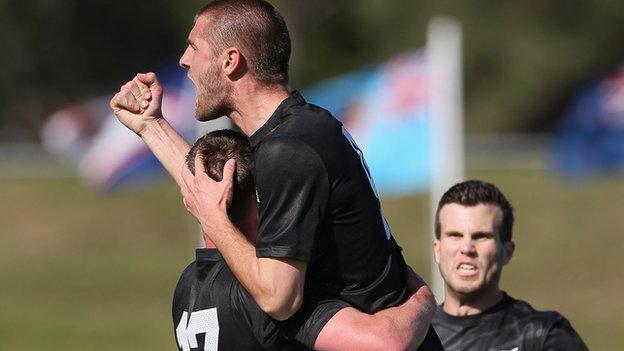 Welsh Premier League striker Greg Draper was New Zealand's hero as his goal secured a place at the 2012 London Olympic Games.
Draper, top scorer for league leaders The New Saints, converted an early penalty to give his Under-23 side a 1-0 victory qualifying win over Fiji.
"It's the highlight of my life to be honest, scoring the goal to get New Zealand to the Olympics," he said.
New Zealand become the 13th team to qualify for the 16-team tournament.
Spain, Brazil, Uruguay, Egypt, Gabon, Morocco, Belarus, Switzerland, Korea Republic, Japan, United Arab Emirates and hosts Great Britain are the other confirmed participants in the competition for Under-23 teams.
Draper, 22, added: "We put our bodies on the line and defended like our lives depended on it, for the whole second half to be honest.
"They came out and hit the crossbar early but we scored one more goal than them and that's all that matters really."
Draper, who has one one cap for the New Zealand national side, is set to return to Wales to play in the Saints' Welsh Cup semi-final on Saturday.
The Oswestry-based side lead the Welsh Premier by five points with three games remaining.