Bournemouth managerial change needed - Eddie Mitchell
Last updated on .From the section Football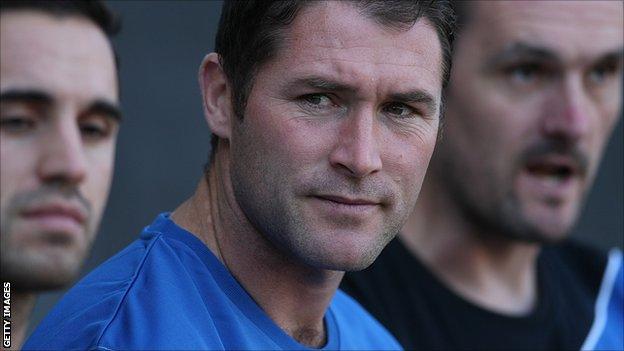 Bournemouth chairman Eddie Mitchell has insisted the removal of manager Lee Bradbury was "best for the club".
The Cherries announced they had parted company with Bradbury on Sunday, the day after defeat at Oldham saw them slip to 13th in League One.
Mitchell told BBC Radio Solent: "Lee and I spent a considerable time on Sunday morning talking and we couldn't conclude together.
"I wish Lee a great future and I'm sure our paths will cross again."
Mitchell refused to confirm whether youth team manager Paul Groves and head of youth Shaun Brooks, whom the club had announced would take charge until the end of the season, would remain in control beyond tomorrow's match against Stevenage.
However in a separate press conference held on Monday afternoon, Groves said he had been told he would be in charge until the end of the season.
He also said Bradbury had rejected Mitchell's proposal that Groves and Brooks assist his work with the first team.
Mitchell also declined to comment on the future of Bradbury's assistant Russ Wilcox and coach Ryan Garry.
The club later published a statement on their website saying Wilcox had been placed on gardening leave for a fortnight, following which he would "return to the Seward Stadium to discuss his future".
Groves said Garry would continue to work as first team coach.
Mitchell added: "As you know, Lee has had 100% support from me from day one and that's never changed. I don't want to comment on other people."
Asked whether he had taken the decision together with Russian co-owner Maxim Demin, Mitchell responded: "That's too much detail. It's just the case that there is a change and really that's as much as I'd like to say.
"I just don't really feel it's my place to comment on where we are in the league. As far as I'm concerned the situation is as it is."
The loss at Oldham on Saturday was Bournemouth's sixth defeat in eight games.
Bradbury, 36, took over as manager when Eddie Howe left for Burnley in January 2011, and guided the club to the League One play-off semi-finals last term, where they lost to Huddersfield on penalties.
Only last week Mitchell claimed he was happy with the club's current position in League One and believed they were making progress.
Bournemouth made a slow start this season, but rose up the table around the festive period before Bradbury signed a contract extension until 2015 in January.