Ahly 'devastated' by two-year ban for al-Masry
By Piers Edwards
BBC Sport
Last updated on .From the section Football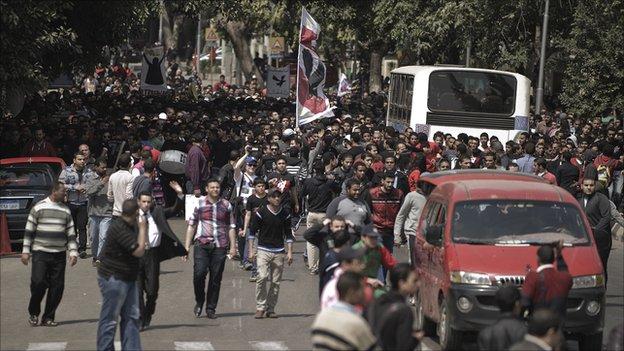 Al Ahly say they have been left 'devastated' by the decision to ban al-Masry from top-flight football for two years.
The Cairo giants believe the punishment meted out by the Egyptian FA (EFA) on Friday evening should have been far greater.
74 fans died in Port Said when al-Masry hosted Al Ahly on 1 February.
"We are devastated - and really furious," board member Khaled Mortagy told BBC Sport.
"We believe this has nothing to do with justice, when you have 74 fans getting killed at a home game of this club, and yet these are the sanctions that are taken - just a one-year ban from playing."
"Because, theoretically, this season is finished, so when they say it's two years, it's actually just one."
With the current Egyptian league season having been cancelled since the tragedy, Al-Masry will be able to resume football for the 2013/2014 season - meaning they will miss only the next campaign.
The Port Said club have also been barred from using their home ground for three years.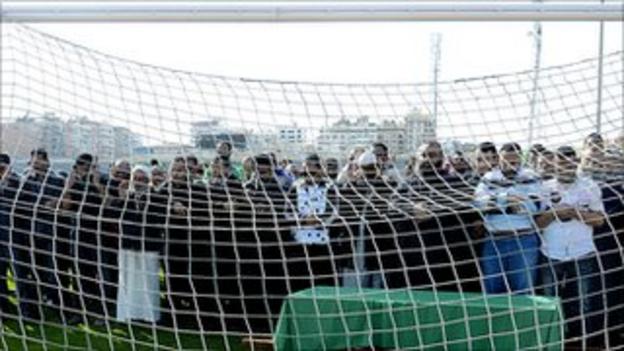 After al-Masry won the league game 3-1 on 1 February, their fans invaded the pitch, attacking Al Ahly players and fans.
Last week, Egypt's chief prosecutor charged 75 people with murder or negligence over the violence.
Mortagy said he would like to have seen al-Masry barred from the Premier League for at least five years, citing the European ban on Liverpool FC following the Heysel disaster of 1985 as an example to follow.
On that occasion, the English club was banned from European competition for six years following the Liverpool fans' behaviour in the incident that led to the deaths of 39 supporters, most of whom followed Juventus.
"We would like to have seen al-Masry sanctioned for one year and relegated so that when they did re-start, they did so from the third division - and so took time to come back to the Premier League," added Mortagy.
"We are also furious, because the byelaws and statutes of the EFA mean we cannot go to the Court of Arbitration for Sport nor to Fifa."
Even though Al Ahly intend to appeal the EFA decision, the club's board has already taken the decision not to play a match in Port Said for the next five years.
The six-time African champions are also unhappy that they must play four games behind closed doors, following the use of flares by some of their fans, while coach Manuel Jose and captain Hossam Ghaly must also serve four-match bans after clashing with officials.
On Sunday, hordes of Al Ahly supporters took to the streets of Cairo to protest against the length of the ban, one which has prompted the Ahly board to hold an emergency meeting on Monday evening.
Fans of al-Masry have also reacted with anger, clashing with Egyptian soldiers on both Friday night and Saturday in Port Said after hearing news of the EFA's punishments.
During the skirmishes, 13-year-old Belal Mamdouh died after he was shot in the back.