Bolton set for 'emotional' return to White Hart Lane
Last updated on .From the section Football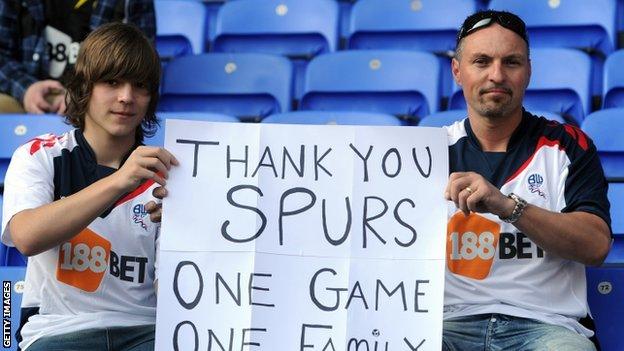 Bolton boss Owen Coyle admits he does not know how his players will react to Tuesday's return to White Hart Lane.
"We will do our best, as we always try to do. Will it be emotional? Of course," said Coyle, who revealed further improvement in Muamba's health.
"But I can't say how it is going to be until we are physically there."
Muamba continues to improve in hospital with the 23-year-old said to be out of bed and eating.
"Because Fabrice is getting better, that allows us to play the match," said Coyle.
"If it was different circumstances, it might be a different conversation.
"The great thing is that he is getting better."
Coyle and chairman Phil Gartside will be part of a small Bolton delegation that intends to visit Muamba on Tuesday, the first Wanderers representation since club doctor Jonathan Tobin revealed the midfielder's heart had stopped beating for 78 minutes before medical staff finally managed to get it started.
"Everyone would want to be there but that would be impossible," said Coyle.
"Fabrice's recovery is paramount but the players who do go can filter back the news. That will help."
Tottenham midfielder Scott Parker expects players to be in the right frame of mind for the game. He said: "Fabrice's recovery has probably helped us a lot and I'm sure it's helped Bolton as well."
Both sides know that victory would set up a last four clash against Chelsea.
Parker knows his team-mates must not lose sight of what is at stake. He added: "It's a big prize and we would like a trip to Wembley and not just for the semi-final - we'd like to go to the final - so we are looking forward to it."
There will be a minute's applause before Tuesday's game and players from both sides will sign their shirts afterwards and auction them online, with the proceeds going to the London Chest Hospital, where Muamba is being treated, and three charities.