Benfica boss Jorge Jesus aims to silence Didier Drogba after jibe
Last updated on .From the section Football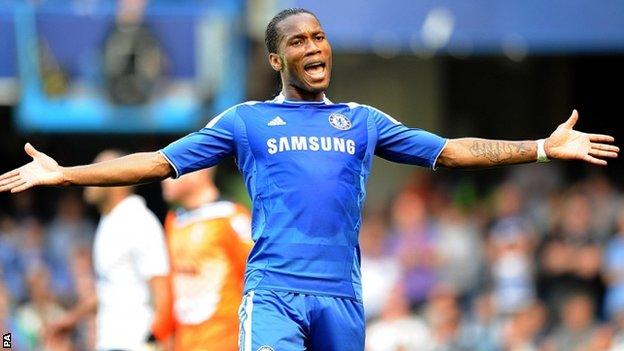 Benfica boss Jorge Jesus has pledged to react to an apparent jibe from Didier Drogba by beating Chelsea in their Champions League clash in Lisbon.
Drogba feigned fear in a video on Chelsea's official website after they were drawn against the Portuguese side.
Jesus accepted the forward was "probably just joking", but added: "Drogba only knows what he's thinking.
"Any responses we'll be giving to Drogba will be on the field and proving we are better than him."
Chelsea insist the matter is "a complete misunderstanding", but Roberto di Matteo's side cannot afford to underestimate Benfica.
The Lisbon club drew home and away with Manchester United in the group stage and boast a 10-match unbeaten run at the Estadio da Luz in Europe.
"That's a sign that we've played well throughout the competition, and that we're working well," Jesus said.
"The further we go in the competition, the stronger our opponents will be. So we'll have to work even harder to get through.
"But you have to remember that Benfica and Sporting Lisbon eliminated Manchester United and Manchester City, the two top teams in England, from Europe."
Drogba's team-mate and former Benfica defender David Luiz attempted to clear up the matter, pointing out that Drogba's reaction on the video was aimed at a potential semi-final with defending champions Barcelona.
Luiz said: "If people watch the video closely, it's not directed at Benfica.
"He was talking about Barcelona because Barcelona are a very, very big team.
"Chelsea know how Benfica reached this far. They're a strong team. Drogba's character wouldn't allow him to disrespect another team."
Chelsea boss Roberto di Matteo has defended the quality of his side despite conceding that the club have had a poor season.
Blues midfielder Frank Lampard claimed the players were "not as good as we used to be" on Chelsea TV over the weekend.
But Di Matteo said: "Chelsea used to be in the top two or top three, at least. So it's been hard for us, domestically.
"But we're in the semi-finals of a domestic cup [FA Cup], and in the quarter-finals of the Champions League.
"It is not the time to be talking about evolution or revolution, whatever you want to call it.
"Now is the time for us to channel our energy into the games we have to play."
And the Italian has backed his side to come through another tough European test.
He added: "I have faith in this team. They've shown they can play at high intensity at a high level, so I'm looking forward to my team doing that again.
"We have great belief in our abilities. That's what we're going to try to express."