Ex-Bournemouth boss Lee Bradbury claims he was sacked
Last updated on .From the section Football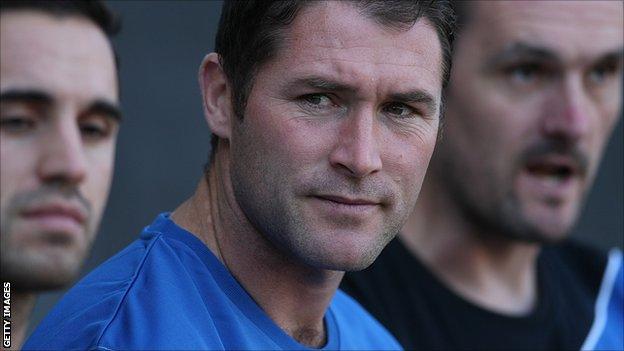 Former manager Lee Bradbury has claimed he was dismissed by Bournemouth chairman Eddie Mitchell.
Bradbury, who lost his job last Sunday, issued a statement via the League Managers' Association.
He said: "I would like to clarify the fact that I did not resign or leave by mutual consent, the chairman decided he wanted a change and I was dismissed."
Mitchell had earlier declined to clarify the circumstances surrounding Bradbury's departure.
Bradbury's statement continued: "I am naturally very disappointed that I have not been give time to see the fruition of all the hard work that has gone in to developing the current squad of players.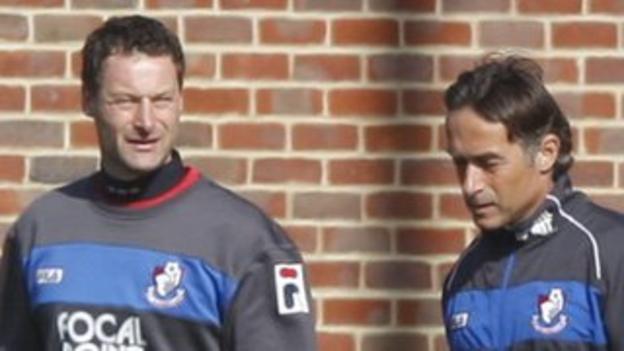 "I felt that we would be in a position to make a positive challenge for promotion next season, but it was not to be."
Mitchell has installed youth team manager Paul Groves and head of youth Shaun Brooks as an interim management team for the League One side until the end of the season.
The Cherries are already being linked with a move for Plymouth manager Carl Fletcher, a former Bournemouth captain. who took over at Argyle following the departure of Peter Reid.
However, Groves has refused to rule out applying for the job on a permanent basis.
The 46-year-old former Grimsby Town player-manager, who worked on Portsmouth's coaching staff under both Harry Redknapp and Avram Grant, said his previous experience had 'whetted his appetite' to take on the role.
He said that Redknapp in particular had been an important influence on his approach to coaching and management.
"I'll be speaking to a number of people and Harry is certainly on my list - he is a fantastic football man with fantastic knowledge and has helped me in my coaching career," said Groves.
Bournemouth travel to play to Stevenage on Tuesday evening and Groves admitted the circumstances had not made it easy to prepare the squad.
"We've tried to prepare the players as best we can in the limited time we have had. Every club looks for stability, but it's the nature of football that sometimes things don't go to plan and people have to adjust," he said.
"The amount of work we have put in to them has been limited. Hopefully, they have been able to take some of the information on board and we will see that come through at Stevenage."