Sunderland post improved finances for last financial year
Last updated on .From the section Football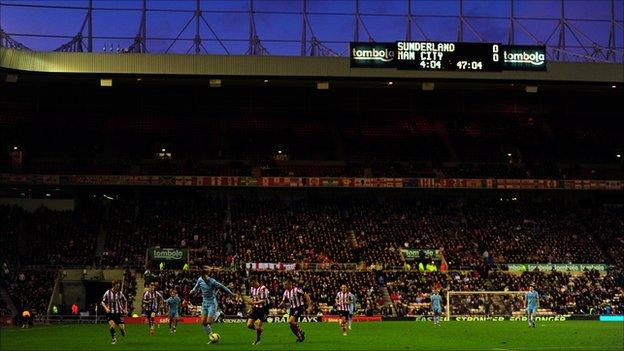 Sunderland chief executive Margaret Byrne has said the club's improved finances are a step towards falling in line with Uefa's new regulations.
The club reported a loss of £7.8m for the financial year ending 31 July 2011, 72% - or £20.1m - less than in the previous 12 months.
"We have to make sure that we prepare the club for the implementation of Financial Fair Play rules," Byrne said.
"Our financial results show that we are heading in the right direction."
The club also increased turnover by 21% to £79.4m, a rise of £14m thanks in part to the club's top 10 Premier League finish last term.
In addition, operating expenses climbed to £110.7m, although player recruitment and salaries account for much of that figure, and returned a net operating loss of £31.2m.
"We have seen significant strengthening of our playing squad with the acquisition of 14 players during the period, culminating in a 10th place finish in the Barclays Premier League, which was always our aim," Byrne added.
"We have also seen a growth in our commercial revenue, from areas such as concerts and sponsorship, which is something that is key to us achieving our aims."
Finance director Angela Lowes said: "Our financial results reflect a period of development for the business as a whole, both on and off the field.
"It is pleasing to see growth in some areas and the figures certainly give us a platform to build on for the future."
Uefa will bring in the new proposals in 2013, with penalties for clubs that do not meet the criteria.