Director Ken McGeoch offers to leave St Mirren
Last updated on .From the section Football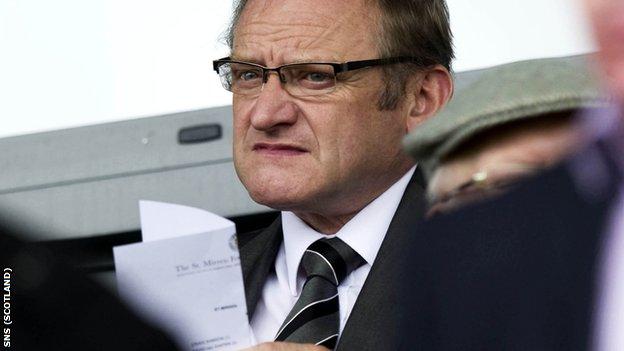 Director Ken McGeoch says he will grant St Mirren's wish for him to leave but has accused the club of a "sustained campaign" against his takeover bid.
St Mirren had asked the businessman to stand down within 48 hours or the board would call an extraordinary meeting.
The board was unhappy that McGeoch had shown confidential information to Rangers' company secretary Gary Withey.
But McGeoch insists there was no association with Rangers "other than sharing the same legal representative".
"As a lifelong Saint Mirren fan and board member for 14 years, I have been very disappointed by the sustained campaign to discredit my bid and remove me from the board," he said in a statement.
"The main objective has always been to secure the future of St Mirren Football Club and bring a level of success that the fans deserve.
"However, it's clear that the current board believe that the club should be taken in a different direction.
"Under the circumstances and the call for my resignation by the board, I would be prepared to walk away from the club that I rescued 14 years ago alongside Roger Lucas.
"I can confirm that I will no longer require to be a shareholder and these shares are available for the board and R Atkinson to purchase."
St Mirren chairman Stewart Gilmour told BBC Scotland last week that the consortium of St Mirren directors looking to sell the club would prefer it to be bought by the community-based group led by Richard Atkinson.
Gilmour said he did not wish to deal with McGeoch and colleague Paul Davies as he was uncomfortable with Withey's involvement, even though the pair severed their ties with the solicitor in February.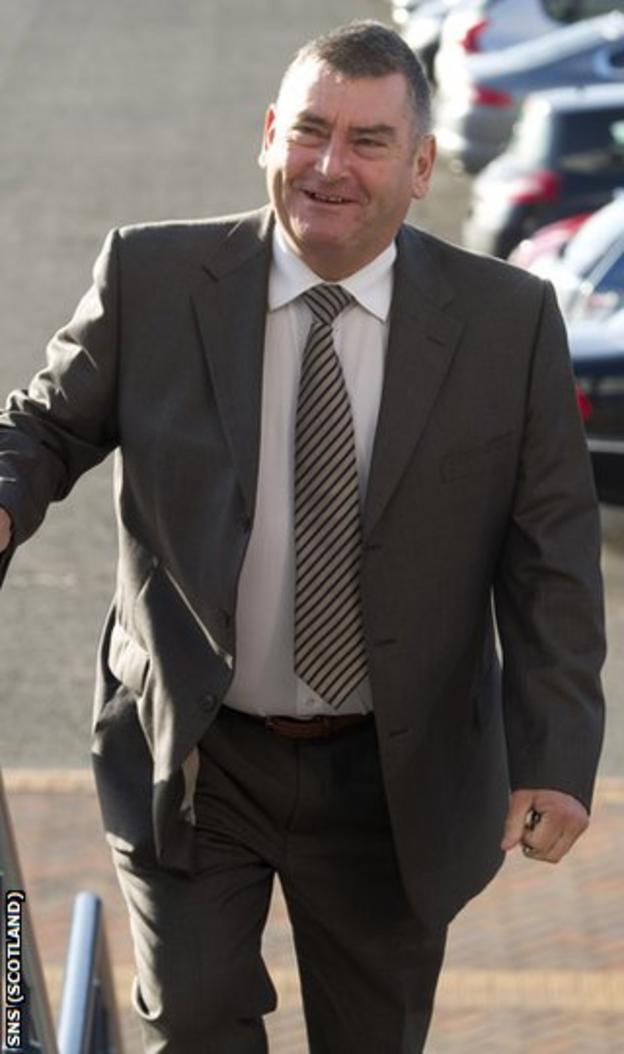 "Gary Withey of Collyer Bristow attended a meeting in the St Mirren board room on 25 November as part of our prospective bid for St Mirren Football Club," stated McGeoch.
"The meeting was a preliminary meeting before appointing Collyer Bristow as our legal representative and undertaking any due diligence work.
"Throughout our negotiations, all business has been conducted with full transparency to all current directors of the club, including seeking approval for the meeting with Gary Withey.
"My prospective takeover with Paul Davies was solely about bringing long-term sustainability to St Mirren Football Club."
There is nothing within Scottish Premier League or Scottish Football Association rules that prevent a club secretary acting for another club.
However, St Mirren's statement claims that the consortium was not informed of Withey's involvement with McGeoch's bid until January, at which point it had concerns over Withey's role.
"During the meeting, Mr Withey had sight of and inspected commercially sensitive documents of St Mirren Football Club," said a statement.
Withey was appointed at Rangers following Craig Whyte's ill-fated takeover of the Scottish champions and remains secretary in name despite the club now being run by administrator Duff & Phelps.
St Mirren suggested that the meeting at St Mirren Park had discussed the use of contracts that led to Rangers being faced with a multi-million pound tax investigation from Her Majesty's Revenue and Customs.
"At one point during the meeting, the club's general manager was brought into the meeting and asked various questions, including whether or not the club used Employee Benefit Trusts," they claim.
"As a director of the company, Mr McGeoch had every right to inspect such documents.
"The board, however, consider that his decision to show these documents to an office holder of another SPL club is a serious breach of trust and an error of judgement."