Rangers to block Scottish Premier League vote change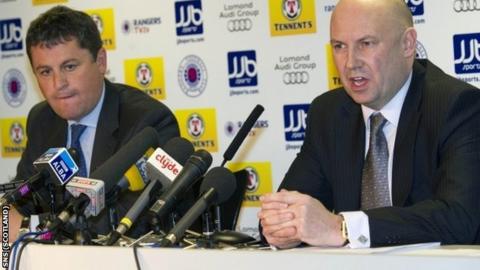 Rangers are to join forces with Celtic in blocking any move to change the current voting structure in the Scottish Premier League.
BBC Scotland has learned that administrator Duff & Phelps will, along with Celtic, vote against changes proposed by the other 10 clubs.
Celtic had already expressed their opposition to a proposed change to the voting system.
The 10 want the 11-1 majority required for major changes reduced to 9-3.
Now Rangers' administrator will also refuse to back a change as it views it as being detrimental to the club's creditors - and to any potential buyers of the club.
The 12 SPL clubs are to meet to discuss the proposal on 12 April, with the 10 clubs unhappy that the Glasgow's Old Firm duo effectively hold a veto should they vote together.
Kilmarnock chairman Michael Johnston on Saturday told BBC Scotland that the 10 other clubs hoped to persuade Rangers to vote for change.
He suggested that Rangers' administrator might require the support of the other 10 clubs in the future as it sought to resolve the club's financial problems.
Johnston thought that the administrator might wish to take a broader "public interest" stance as it attempted to gain support from the public, other clubs and Her Majesty's Revenue and Customs as the club's battle against a major tax bill progresses through the courts.