Chelsea risk pays off against Benfica - Roberto di Matteo
Last updated on .From the section Football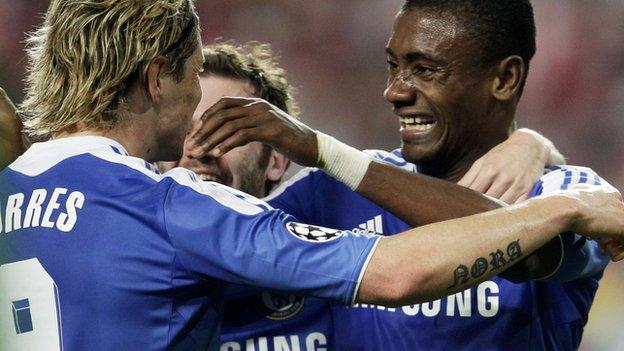 Roberto di Matteo said his bold selection policy was vindicated after Chelsea took a big step towards the Champions League semi-finals.
Salomon Kalou justified his surprise selection with the decisive goal.
"I didn't think it was a gamble, but sometimes in life you have to take a little risk," said Di Matteo.
"He's come into the team after a long spell out - he got the goal and had a great game."
Di Matteo also recalled Raul Meireles and Paulo Ferreira, who was making his first start of 2012, as a spirited Chelsea side produced a determined performance to take a big step towards the semi-finals.
"With the fact we are playing all these games, it was important to select a team that had the energy for a high-tempo game," added Di Matteo, who warned that the job was only half done.
"You know how football is - nothing is over, there is still another 90 minutes to play.
"We haven't qualified yet. It's dangerous to think we're through...we've put ourselves in a good position, but it's not a result you can rely on for the home game."
However, the Italian was delighted to have prevented the Portuguese team from scoring at the Estadio da Luz, saying: "It's terrific, you couldn't have hoped for a better result.
"To keep a clean sheet is great - defensively we looked very good. Before the game we [said we] wanted to score and we went close on a number of occasions.
"I'm very pleased for Paulo Ferreira. He came into the team after a long spell out and had a great game.
"For 90 minutes we had to run, challenge and win tackles. It was important that we selected a team that had the energy to be competitive.
"Defensively we never looked in any danger. They had some set plays but, apart from that, Petr [Cech] only had a few saves to make and they were mostly from long range."
It was not all good news for Chelsea, with goalkeeping coach Christophe Lochillon sent to the stands.
"I don't know exactly what the reason was. I was focused so much on the game," said Di Matteo.
It was the first defeat in 11 European home games for Benfica.
"We were the best team for most of the game, we produced most of the chances," said Benfica coach Jorge Jesus.
"We're not out yet. We can still turn this around."