Owen Coyle thanks Tottenham for Fabrice Muamba support
Last updated on .From the section Football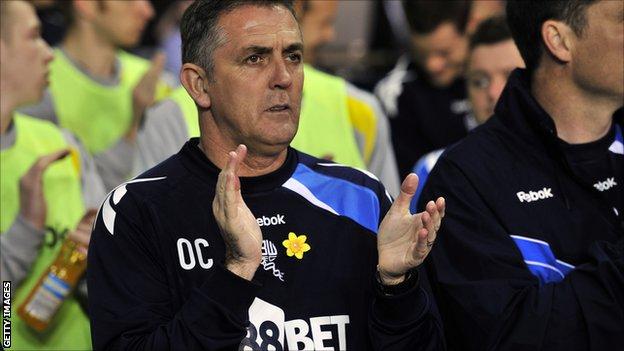 Bolton manager Owen Coyle paid tribute to Tottenham after Tuesday's rearranged FA Cup quarter-final defeat for their care of midfielder Fabrice Muamba.
Coyle admitted Tuesday's return to White Hart Lane had been "emotional" but thanked Spurs for their support.
"We have been truly humbled by the care and concern shown by everyone at Tottenham for Fabrice," said Coyle.
His side were beaten 3-1 by Spurs in what had been a difficult night for Bolton's players - who had earlier visited Muamba in hospital. Before the match both sets of supporters and players took part in a minute's applause in support of the midfielder.
"There's been continued improvement but there such a long way to go," Coyle told BBC Radio 5 live.
"Where he is today with regards to 10 days ago is huge. We have to thank everybody for the strength and support.
"That has been a big player in Fabrice's recovery. As horrible as those events were, there's been a real positivity about what has come out from it.
"We have the best game in the world, bar none but to see it in such a good light, although we don't want to see the scenes that we did, it was great."
Tottenham manager Harry Redknapp added: "We are not quite there yet but it has been a miracle to see the boy recover as he has.
"Everybody's spirits couldn't be better, when he left here that night we all feared the worst. We keep getting good reports every day and that is just great news.
"It was an horrendous night. Those of us that were here will never forget it. Please God he makes a recovery like we hope he will."
Earlier Coyle had written a message of thanks in the matchday programme ahead of the game.
"On behalf of everyone at Bolton Wanderers and our supporters, I would like to offer our sincere thanks to Tottenham Hotspur - the staff, players, management and fans - for their support for Fabrice and his family at this difficult time," wrote Coyle.
"Harry has been in touch regularly to check on Fabrice's progress and Spurs chairman Daniel Levy has been in regular contact with our chairman Phil Gartside.
"The family have appreciated the many messages of support from Spurs fans.
"Tottenham's club doctor Shabaaz Mughal, the medical team and paramedics in attendance at White Hart Lane last Saturday played a vital part in giving Fabrice the best possible chance after his cardiac arrest and I would like to thank them all.
"He has a long road ahead of him and the messages of support have been a great source of strength and energy for everybody. Thank you all."