David Moyes says Everton are underdogs for Wembley derby
Last updated on .From the section Football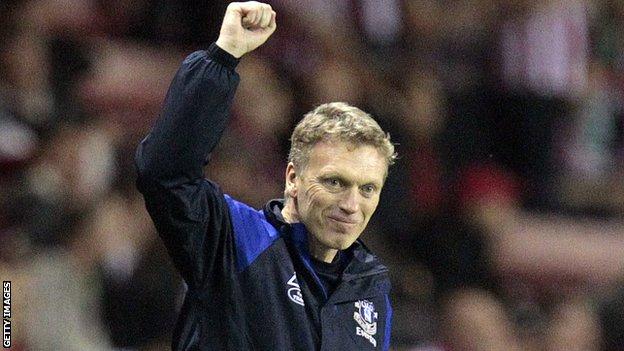 Everton manager David Moyes says Liverpool will be favourites for the FA Cup semi-final when the derby rivals meet at Wembley next month.
But Everton have already lost twice to Liverpool in the Premier League including an emphatic 3-0 defeat at Anfield earlier this month.
"Liverpool will be favourites. They have beaten us twice this year, haven't they?" said Moyes.
Moyes, who this month celebrated 10 years in charge at Goodison Park, has never won a trophy with the club.
He lost the FA Cup final to Chelsea three years ago but pointed out that the Toffees have a rich history of success.
"I think anybody would think going to a semi-final would be an achievement, whether you have been there one year or 10 years," he said.
"But the thing about Everton is they have got a history of being in finals, semi-finals, winning things.
"I have not been in as many as I would like to be, but I actually think there are mitigating circumstances for that in a way.
"But Everton as a football club are used to it, it's been there many times before and this isn't a strange place for them."
Sunderland manager Martin O'Neill admitted that Everton deserved their victory at the Stadium of Light.
"Everton were better than us. They deserved to win the game. We didn't perform well enough - we didn't perform at all, and that's really disappointing," he said.
"There was high expectation, of course, having done so well to get here, to have forced the replay, to have come back here to the Stadium of Light where, outside of Arsenal, who got a couple of late goals on us, we have done pretty well."