Stevie Hammell eyes Champions League incentive in contract talks
Last updated on .From the section Football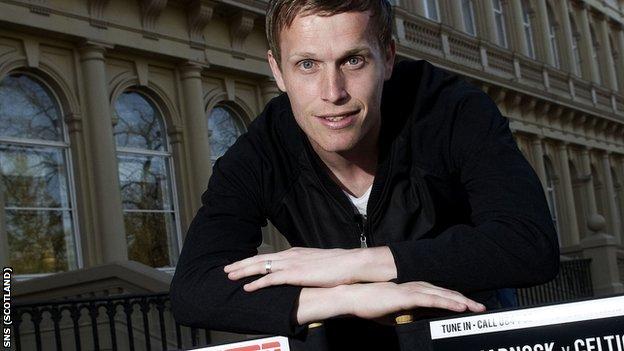 Motherwell defender Stevie Hammell says qualifying for a Champions League spot would be an added incentive to agree a new deal at Fir Park.
The 30-year-old full-back is out of contract in the summer.
"There have been talks between the club and my agents, just in the early stages just now," said Hammell. "A few of the boys are in the same position.
"I would be keen to stay anyway, but what an incentive it would be to come back next year."
Motherwell go into Saturday's game at home to Rangers three points behind the reigning champions, currently second in the Scottish Premier League.
However, with the Glasgow club's financial troubles meaning they are unlikely to satisfy requirements for a Uefa licence by the 31 March deadline, the third-placed team will replace them in the Champions League.
"To be honest, we haven't really spoken about it as a goal, but it is there for everybody to see," admitted Hammell.
"I don't know if it's cut and dried with Rangers yet if they're going to be in Europe.
"But, if third place gets you into the Champions League, it's a great incentive.
"You're not going to get any better than that.
"Ever since I've been playing, it's not a position we have been in so we need to strive to get over the line and make sure we finish at least third."
Motherwell are aiming to end a 10-year wait for victory over Rangers on Saturday that would put them level on points with Ally McCoist's men in second spot in the Scottish Premier League.
Hammell insists that, despite their record against the Scottish champions, there is no mental barrier preventing them from securing a victory.
"I don't think we have taken anything off either side of the Old Firm this season and the record against Rangers in the last 10 years I'm told is really poor," he said.
"But, if we want to be considered one of the best teams in the league, it's about time that we changed it.
"It's going to be difficult and we know they are getting stronger, but the belief is definitely there."
Meanwhile, Hammell believes manager Stuart McCall should not receive further punishment after being sent to the stand against Aberdeen.
McCall has appealed against the offer of a one-match suspension following Well's Scottish Cup quarter-final defeat.
"Stuart McCall was sent to the stand at half-time," said Hammell.
"So that's half a game he has already missed. I personally think that's enough."