Matt Bloomfield column: Not just football

By Matt Bloomfield
Wycombe Wanderers midfielder
Last updated on .From the section Football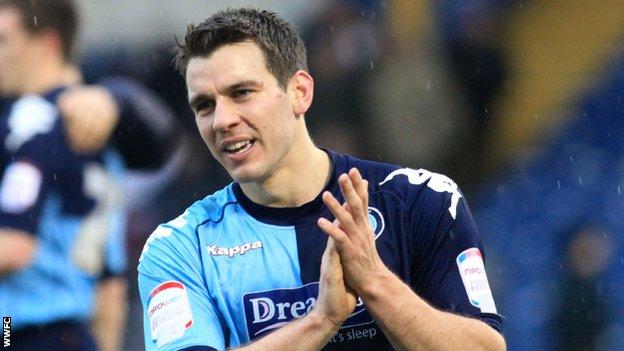 Five-and-a-half weeks of the season left. It never ceases to amaze me the speed that the season seems to go from Christmas onwards.
Every year you get to mid-March and start looking at the run-in and think where has the season gone?
This season has seemed to have gone quicker than normal as I have been busier off the pitch. As a young player it's great to have all of that free time after training when you can go home, play a few games of FIFA or Pro Evolution Soccer and maybe have time for a nap before meeting some of the other lads to go for some dinner.
We are obviously in a very privileged position where we get a lot of free time to ourselves. Things are slightly different for me now though.
Now my afternoons have to be spent doing work on my different modules of university work or making phone calls to arrange interviews for my project.
My days off are spent either up at Staffordshire University or at work experience in Cambridge, and every other week I sit down to write my column.
I appreciate that a lot of the working world still work more hours than I do but I have certainly felt fulfilled by using my time more productively.
At times it has been quite difficult to juggle deadlines at uni with work experience schedules, alongside what is obviously my number one priority - being the best professional footballer that my ability allows me to be. That has always been and will always be my main passion in life.
But I think that starting the degree has not only enhanced my long-term prospects in terms of what I want to do when I finish playing, it has also enhanced my short-term mindset and outlook.
I know that many players feel the same. For my final project at uni we have to produce a 9,000-word document in the medium of our choice.
I have decided to produce a booklet about current footballers who are making plans for the future. It has been interesting to speak to so many players who have been only too happy to give up their time to talk to me.
Richard Hinds of Yeovil and Josh Low of Cheltenham have both completed law degrees, David Artell of Crewe spent seven years studying forensic science and Ben Futcher, who is currently on loan at Macclesfield from Bury, has completed a degree in sports performance and coaching.
Our striker Ben Strevens is currently undertaking a sports science course and is often working on the coach on a Friday afternoon on the way up north somewhere. I hope that other players will be able to read my booklet and that maybe it might inspire them to start planning for their own futures.
I'd also like to mention the new logo unveiled by the Home Office to mark one year since the launch of the Government Charter for Action, tackling homophobia and transphobia in football.
The club and I are proud to give our continued support to the campaign. We were the first club to sign the charter and will continue to do all we can to help rid our game of all kinds of discrimination.