Ahly play down talk of Wembley friendly against Zamalek
Last updated on .From the section Football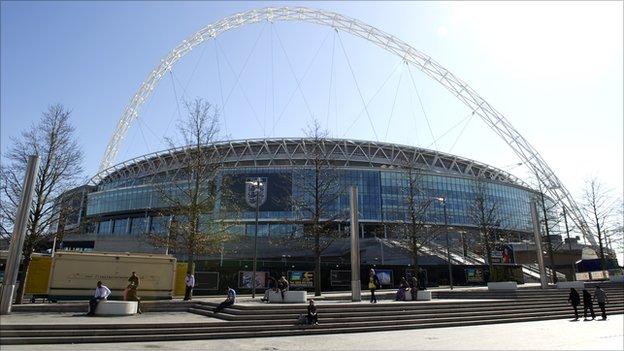 Egyptian club Al Ahly are playing down reports that they will play a friendly against Zamalek at Wembley in April.
Reports hinted the six-time African champions would play city rivals Zamalek in London to raise money for victims of the Port Said tragedy.
But Ahly board member Khaled Mortagy told BBC Sport that his club has not agreed to the suggestion yet.
"We are a bit reluctant to play at Wembley, we should really play in Egypt," he said.
"It is a charity match for the 'martyrs' and the victims and their families - so we believe it would add more value if we played in Egypt.
"It's not 100% confirmed by Zamalek either."
Ahly are referring to their fans who died when violence erupted at their league game against Al Masry in February.
The club also say they believe 72 people were killed in the clashes rather than the 74 that has been widely reported since the incident.
With the remainder of the Egyptian league season having been cancelled both sides are looking to play friendlies to keep fit as they are taking part in the African Champions League.
Ahly had also announced on their English website they would play game against Getafe in Sudan in April but the Spanish club will not be able to honour the fixture as they will be preparing to play Barcelona.