Schmeichel honoured to be Leicester City captain
Last updated on .From the section Football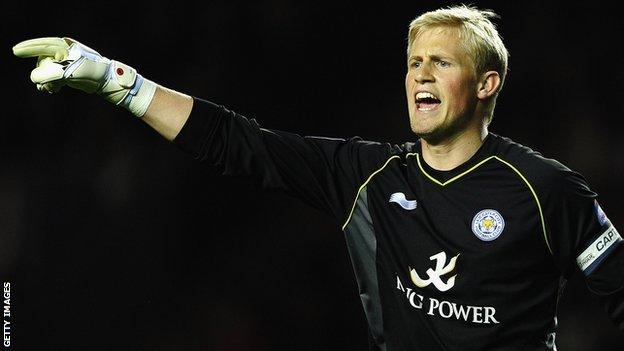 Leicester City goalkeeper Kasper Schmeichel says being named captain for the game against Nottingham Forest was one of the highlights of his career.
"Captaining Leicester is one of the greatest honours in my career so I feel very privileged," Schmeichel, 25, told BBC Radio Leicester after the 0-0 draw.
"I was buzzing when I was told and couldn't really wait for the game.
"A lot of goalkeepers are naturally very vocal and outgoing so it's a natural thing for a keeper."
Schmeichel added: "I'd say I have a better view of the game than anybody that's why I have always thought that goalkeepers make the best captains."
The Foxes were unable to break down a stubborn Forest side but, despite failing to secure maximum points, they are only four points off the play-off spots and six points off fourth place.
"It was one of those games where we didn't look like scoring," Schmeichel said.
"It was a chance missed maybe but we kept a clean sheet. That's what we have to look at and be happy with that.
"We have lots of good leaders and experienced players that know that sometimes you come up against teams who are fighting for their lives and you cannot break them down.
"The type of football they have been playing is very much survival football. They are in a dogfight. They kept very compact and restricted us completely.
"It was a shame we could not break them down but results have gone for us. We have to stay positive and we are still in the hunt.
"Until it's mathematically impossible none of us will give up."
And the Danish keeper said there was no chance of manager Nigel Pearson allowing them to be disheartened by the home draw and vowed to keep pushing for the play-offs.
"We have got to," he said.
"If results keep going as they are going, and we can finally take advantage of it then why not? That's our attitude. We have a great manager and he won't let us stop at all.
"We need to be as relentless as we can."