Ex-England boss Terry Venables joins non-league Wembley
Last updated on .From the section Football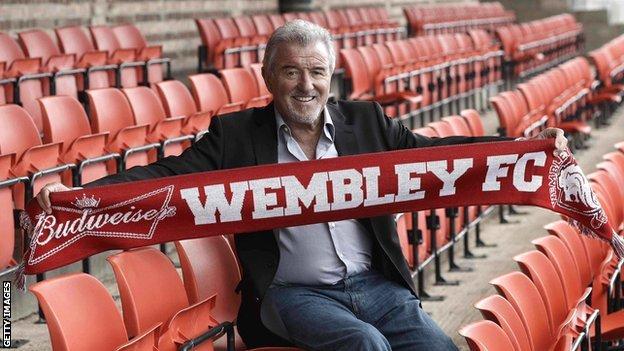 Former England coach Terry Venables has made a low-key return to management by joining Wembley FC, who are on the ninth tier of English football.
Venables, who led England to the semi-finals of the 1996 European Championship, has been hired as a technical adviser.
The 69-year-old's last management role was as assistant to England manager Steve McClaren in 2007.
"If they are willing to learn, I am willing to teach," said Venables.
"Managing, coaching and teaching football has been an essential part of my life for over 30 years.
"This opportunity to share my knowledge of decades with an eager group of players and coaches was too important to turn down.
"Grassroots football is essential for the lifeblood of the professional game and if I can leave Wembley FC in a better position than I found it, then it will be a job well done."
Wembley FC were able to sign Venables after agreeing a sponsorship deal with Budweiser, which is also in the first of a three-year deal as sponsor of the FA Cup.
Venables won the FA Cup as a player and manager with Tottenham and other clubs he managed included Crystal Palace, Queens Park Rangers and Barcelona.