Swansea City skipper Ashley Williams hails Leon Britton deal
Last updated on .From the section Football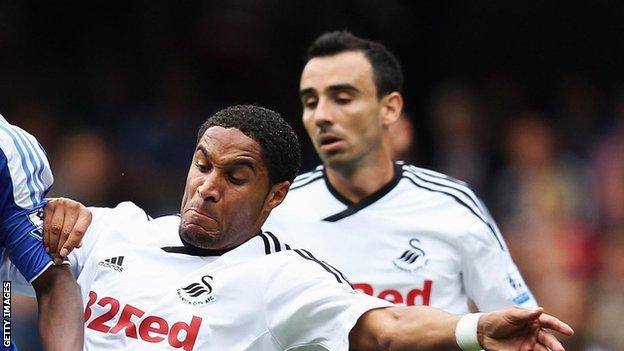 Swansea City skipper Ashley Williams has hailed the club's decision to sign midfielder for more three years.
Williams and Britton have both played their part in getting the Swans up to 10th in the Premier League after helping the club gain Championship promotion.
"He [Britton] has earned his new contract," said Williams.
"He has been brilliant this season. You can't fault him.
"I'm happy he signed and I get to play with him a bit longer."
As well as signing for three more seasons Britton says he is ready to see out his playing days at Swansea.
"I want to stay here as long as I can, hopefully the rest of my career, I'm absolutely over the moon with it," Britton said.
"We shook hands on Friday, so it's just a case of the club drawing up the paper work."
Britton is the most accurate passer in the Premier League and the 5ft 5ins defensive midfielder provides the fulcrum for Swansea's dominant and attractive passing style.
He is among the top passers in his debut Premier League season and the 1,573 completed passes he had completed before their loss to Everton boasted an unrivalled success rate of 93%.
Swansea City boss Brendan Rodgers has hailed the former West Ham United trainee as the new "reference point" for small British footballers after an "incredible" season - and he wants Britton to commit long-term.
And Rodgers certainly believes Britton has an important part to play in Swansea's future.
"In the British game he really is a reference point now for players of that type," said the Swansea manager, who signed a new long-term deal in February.
"Players that for many years were discarded because they were too small and highly technical.
"He is performing consistently and making up to 100 passes a game which is phenomenal for a player at this level.
"We want to secure his future as he will play an important part in our development. I love working with him, he is an honest guy and he gets what we are all about."