Rangers fans will pay debt to Dunfermline but not Dundee Utd
Last updated on .From the section Football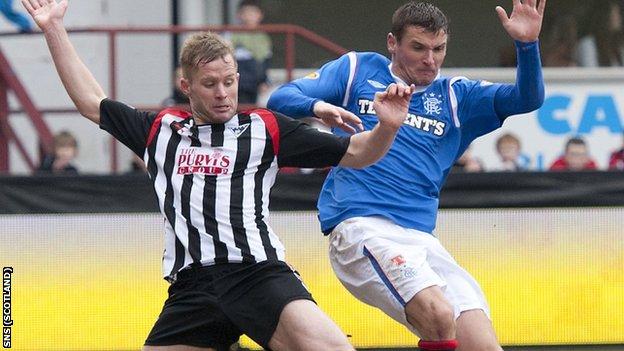 Rangers fans are to pay the club's debt to Dunfermline Athletic but have decided against doing the same in the case of Dundee United.
"That was rejected as there were strong views that, in recent times, Dundee United had treated Rangers and their fans with disdain," a statement said.
The Rangers Fans Fighting Fund has raised £250,000 in two weeks for the club in administration.
And it has decided to pay £22,000 owed to the Pars for ticket sales.
Dunfermline admitted that the loss of this expected revenue from the Scottish Premier League game on 11 February had caused them financial difficulties.
And former Rangers player Sandy Jardine will go to East End Park on Friday on behalf of the fund and personally hand over the cheque to Pars chairman John Yorkston.
RFFF chairman Andrew McCormick said: "After some discussion, it was agreed that we should use some of the money collected by our fans to pay off this outstanding debt.
"This is a debt of honour to a club of honour."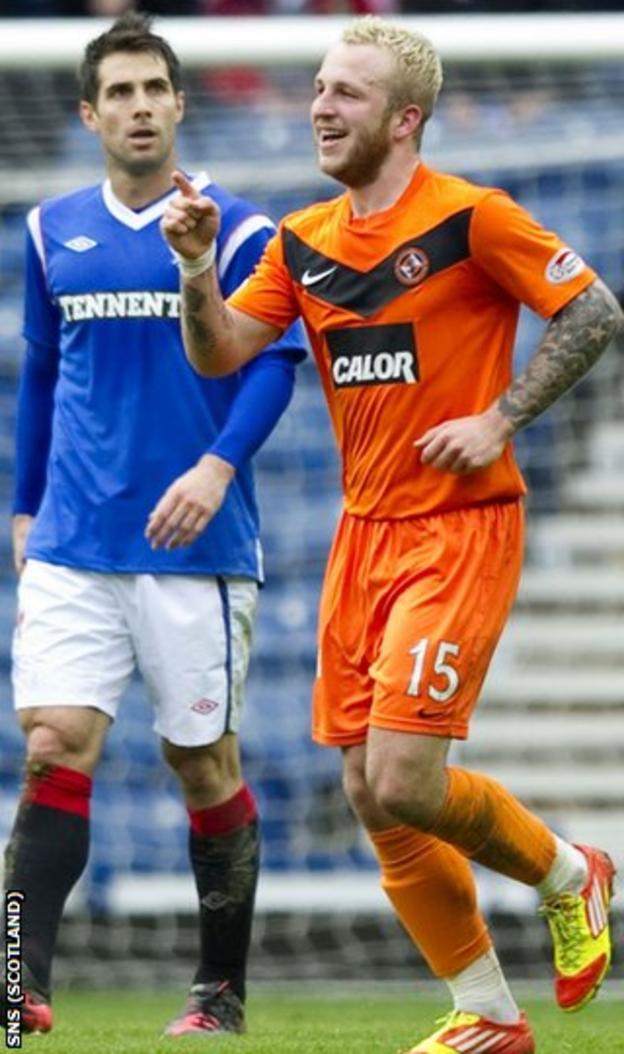 United are owed money from tickets sold for the Scottish Cup tie between the clubs on 5 February.
"Rangers fans were angry last season when Dundee United levied an extra charge on Rangers ticket holders if they wished to attend an abandoned game at Tannadice," explained McCormick.
The RFFF announcement comes the day before a Scottish Football Association tribunal meets to consider charges against Rangers and owner Craig Whyte.
Whyte allegedly breached two disciplinary rules, while Rangers face five charges for failing to meet SFA regulations.
Thursday's judicial panel will also consider a previously announced notice of complaint over the club's failure to pay United.
"Like everyone else connected to the club, we are aware of the Rangers standing and their responsibilities to the rest of the game in Scotland," added McCormick.
"We believe that spending some of our funds this way is only fair to Dunfermline, who are suffering because of a situation that was not of their making.
"It also demonstrates to the Scottish football authorities that Rangers fans not only have an allegiance to the club but are aware of the impact the club's situation is having elsewhere in the game.
"The Fans Fighting Fund is doing this on behalf of Rangers Football Club as we believe this the proper course of action.
"We would hope this is not only noted by the Scottish football authorities but will have a strong impact when certain charges against the club are debated by the SFA on Thursday of this week."
The Scottish Premier League, whose board also meets on Thursday, is investigating player contracts and registrations at the Scottish champions.