Midfielder Brian McCaul signs two-year Linfield deal
Last updated on .From the section Football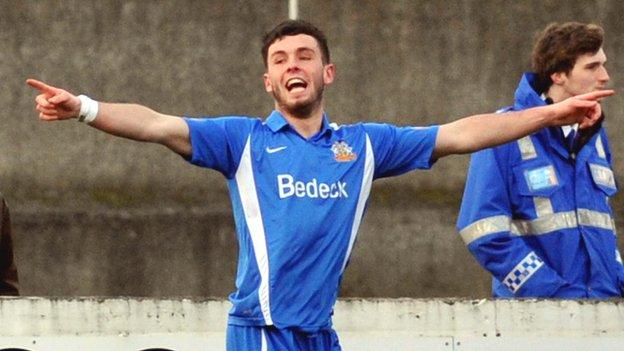 Brian McCaul's impressive loan spell at Glenavon has earned the mifielder a new two-year contract with Linfield.
The 21-year-old joined Glenavon in January and will return to Windsor Park at the end of the season.
"What Brian has done thus far has been most impressive. It hasn't surprised me or my coaching staff how well he has done," said Blues boss David Jeffrey.
"Brian's period at Glenavon has benefited Glenavon and himself and I also believe it will benefit Linfield."
McCaul scored in Glenavon's 5-1 win at Dungannon Swifts on Saturday.
"Brian needed a regular opportunity to get playing and what he has shown thus far, has shown me that he will certainly be an excellent member of the squad for next season," Jeffrey told the club website.
"As is always the case I, in conjunction with my coaching staff and the team committee, am always reviewing and assessing the strength of the squad.
"At this moment in time, we are placing a particular focus on the players coming out of contract at the end of the season.
"In recent weeks we have been delighted to re-sign Michael Gault and Michael Carvill."