Administrators receive 'three written bids' for troubled Port Vale
Last updated on .From the section Football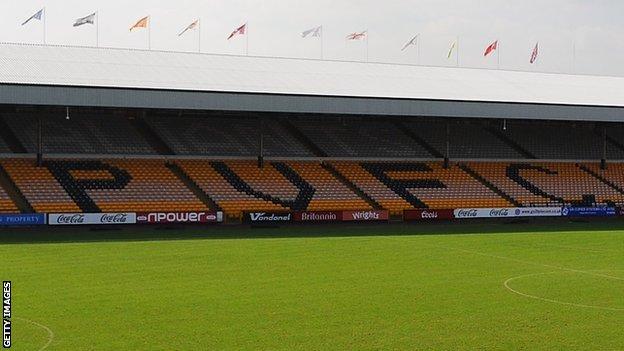 Port Vale's administrators Begbies Traynor claim they have received three anonymous written bids to buy the club.
The administrators of the troubled League Two side say they are in talks with three other separate bids but have dismissed one further proposal.
Bob Young, from Begbies Traynor, told BBC Radio Stoke: "We've asked them to send us some proof of funding. They appear to be serious parties."
Vale went into administration earlier this month with debts of around £3m.
Young added: "I'm pleased to say we have three written offers already and we're still talking to three other parties. A couple of those are likely to make bids from what they've told us.
"They've all done a lot of work, a lot of due diligence and sent accountants or solicitors in to crawl over the books.
"We're keen to get on with it but there's no point accepting a bid unless we're sure someone can pay for it. They have to prove they're able to buy the club but then also run it thereafter.
"We will be asking for a non-refundable deposit from the preferred bidder just to demonstrate they're serious.
"Then we will ask them to show they are able to complete the purchase and comply with the Football League's insolvency rules.
"It's quite encouraging that we have so many people apparently serious about it."
Young confirmed Mo Chaudry, who failed with a bid to buy the club in 2011, is one of the interested parties but had not made a formal bid yet.
Fans met representatives from Begbies Traynor and were told the deadline for bids is 1200 BST on Monday, 2 April.
The club had been pushing for a play-off spot in League Two before going into administration but they are now 16th after receiving a 10-point penalty.