Derby County's Shaun Barker certain of full recovery
Last updated on .From the section Football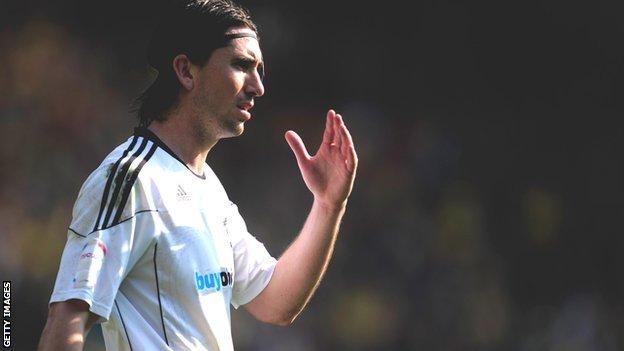 Derby County captain Shaun Barker is convinced he will make a complete recovery from the knee injury which will sideline him for 12 months.
"Ten years ago people would have probably retired with this injury," Barker told BBC Radio Derby.
"But I have no doubt I'll get back and my knee will be in better condition."
Barker was hurt in the closing stages of the 1-0 win at Pride Park when Rams goalkeeper Frank Fielding landed on his leg after clearing the ball.
"The second he did it I felt my leg go in the opposite direction and immediately I thought I'd broken it," he said.
"I was on the floor trying to keep still. I didn't fancy looking at it because I'm quite squeamish. Then we thought it might be a dislocation."
Following a lengthy on-pitch delay, Barker was taken off on a stretcher and the full extent of the damage was discovered in the coming days.
An original diagnosis of nine months out was soon increased to a year.
But although Barker was told he had "ruptured just about every ligament and tendon in his knee", the injury is not career threatening.
Barker, who has been plagued by injuries during his three years as a Derby player, added: "For an hour or two I couldn't really speak to anyone after I found out the bad news, but I'm a positive person and these things happen.
"It will be hard to get my head round - especially midway through. I was out for seven months this year and that felt like an eternity.
"I will find it extremely hard but I expect to get back from this. I will work my socks off. I expect to be the player I want to be at Derby and I don't feel like I've been able to be since I've been here because of injuries.
"It was a strange because it went from nine months to 12 months but the gaffer and staff seemed delighted and that's because they had in the back of their minds that it was a bad injury and they thought they may not have been able to get me back to the same sort of standards.
"I'm devastated underneath it all, but no one will be able to tell because I'll be thinking about a year's time when I will be back playing for Derby County.
"I just have to get my head around it and keep plugging away."
Barker was also thrilled with the good wishes he has received since the injury
"It's touching how many people contacted me and sent me messages and tweets," Barker added. "I feel even more support now even though I won't be playing for a year."