Rangers pay Dundee United £19,000 owed for SPL tickets
By Jim Spence
BBC Scotland
Last updated on .From the section Football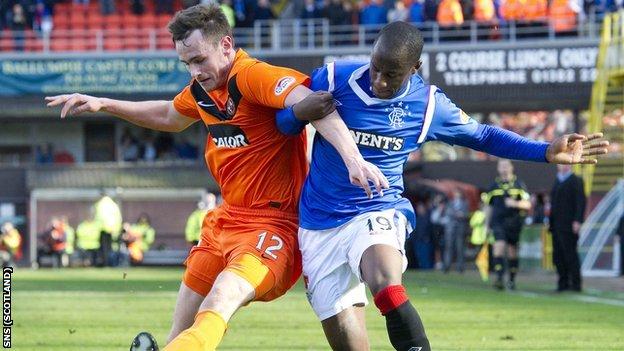 Rangers have paid Scottish Premier League rivals Dundee United the £19,000 they owed them for ticket money.
Rangers' administrators claimed United had been "paid in full for the tickets for that match".
But United chairman Stephen Thompson had told BBC Scotland on Thursday: "The money is not in our account. Payment is only paid when it is in our account."
While that dispute now looks to be resolved, another remains outstanding: money due to United from Rangers which relates to their Scottish Cup meeting at Ibrox on 5 February.
An amount of £86,000 is still to paid by Rangers from that earlier match, according to Dundee United.
Both matches were won by United, 2-0 in the cup and 2-1 in the league.
SPL chief executive Neil Doncaster had explained that there was no set sanction for any alleged breach of the rules, with 18 sanctions available.
He had warned that the board would consider the complaint on 12 April and, if a breach were proved, would bring forward disciplinary measures at that stage.
Rangers were late in paying Dunfermline after their league clash at East End Park on 11 February.
The Ibrox club went into administration three days later and the Pars received some of the money due before the Rangers Fans Fighting Fund agreed to make up the difference of £22,000.
However, the RFFF have decided not to offer money to United over the cup tickets arrears, claiming that the Taysiders "had treated Rangers and their fans with disdain" in reference to a previous match.
The Arab Trust, who have a shareholding in Dundee United, rejected this claim with board member Mike Barile telling BBC Scotland: "We've never treated them anything other than fairly."