Wolves boss Terry Connor weighs up Karl Henry recall
By Ged Scott
BBC West Midlands Sport
Last updated on .From the section Football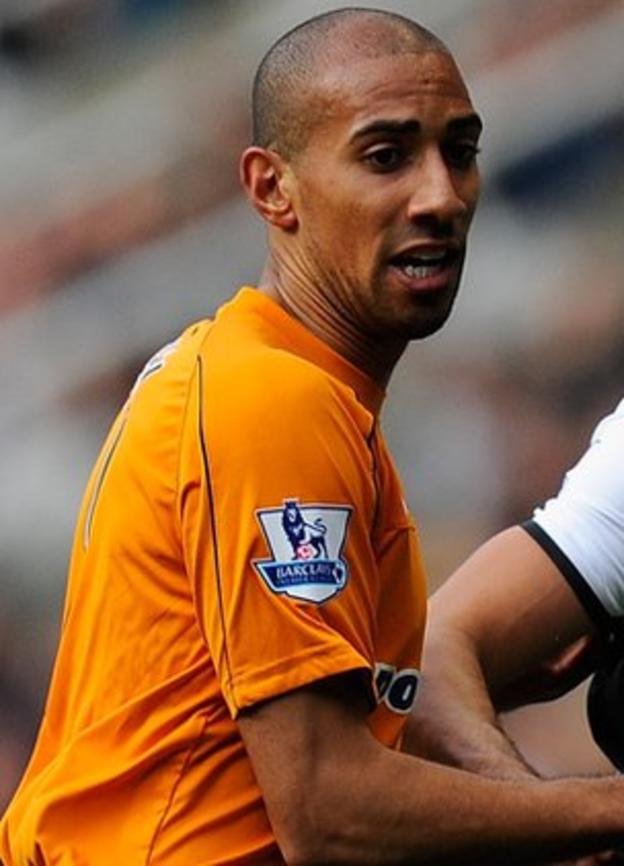 Wolverhampton Wanderers manager Terry Connor is weighing up whether to recall Karl Henry for Saturday's important Premier League game against Bolton.
Wolves have lost their last four games, shipping 14 goals in the process, since Henry, 29, suffered a hamstring injury early in the 5-0 defeat at Fulham.
But, although having clearly missed his midfield general, Connor is aware of the risk of bringing him back too soon.
"It's great to have him back. But I'll only pick him if he's right," he said.
"I don't want to miss him for another four weeks after.
"He's been missing for three or four weeks, so we'll just have to see how he is on Friday. But he's been a really important member of the squad and it's good to have him back training."
If Henry returns, it will be to a Wolves team seeking only their second win in 18 matches, yet still only four points from safety.
And it comes just a week after the perhaps equally critical recall of centre-half Roger Johnson, the man who replaced Henry as captain when Mick McCarthy signed him from Birmingham City for £7m last summer.
Having dropped Johnson for the Fulham game after he "reported for work not fit to train properly", Connor turned to Irish left-back Stephen Ward to skipper the side for Wolves' next two matches - the 2-0 home defeat by Blackburn Rovers and the following week's 5-0 Molineux thumping by Manchester United.
But, having recalled Johnson as skipper last weekend, Wolves' 2-1 defeat at Norwich, Connor stands by the big centre-half's leadership qualities.
"Roger Johnson was made captain as he fitted the bill," said Connor.
"That's what the previous manager wanted to do and I supported him 100 per cent."
Wolves will certainly need to have as many leaders on the park as they can against relegation rivals Bolton, who lost their replayed FA Cup sixth round tie at Tottenham in midweek, but will be emotionally charged up following the on-pitch cardiac arrest suffered by Fabrice Muamba.
And Connor admits it is important that he sets the right tone in the dressing room as Wolves, mindful of the dramatic way they escaped relegation last season thanks to a final-day 87th-minute Stephen Hunt goal, urgently seek some sort of spark.
"If I came in on Monday morning looking resigned to our fate, the players would pick up on that in a heartbeat," Connor told BBC WM.
"We can't go in all gung ho on Saturday and throw caution to the wind. If it takes us to the 87th minute to win, then that's what we have to do.
"But the players all believe they can do it after what they've been through over the last two seasons. We've just got to go out there and work hard.
"I know it's difficult times but you take your opportunity when it comes and try and make the most of it," added Connor, appointed as manager until the end of the season after Wolves' failure to bring in more experienced Walter Smith, Alan Curbishley and Steve Bruce as McCarthy's successor.
"And it hasn't finished yet. Even if we don't win on Saturday, we'd just go out to try and then try to win the next one after that."