Lorenzo Amoruso fears loss of Rangers SPL titles
Last updated on .From the section Football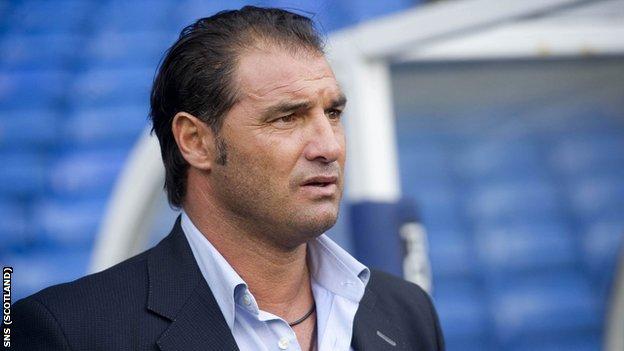 Former Rangers captain Lorenzo Amoruso fears the Scottish Premier League will strip the club of some of their titles.
Amoruso played for Rangers between 1997 and 2003, during which time the club won the SPL three times.
The league is investigating whether Rangers paid players through schemes which may have breached SPL rules.
"One thing is for sure, even if they want to take the trophies away from this club, we won the trophies on the pitch," said Amoruso.
"They are investigating everything now. They want to try to take away the trophies we won.
"The metal cup won't be here anymore if they do that, but we know for sure that we won the trophies on the pitch, with sweat and running and shouting and co-operating with team-mates and the gaffer.
"Nobody will take that away from us and the fans. We won on the pitch, not because of the money. We were better than the other teams, that's it.
Amoruso finds it "amazing" to see his former club in administration and believes a prospective new owner has to show the same commitment as players have done.
"What we need is for somebody to come in who will be passionate, like the players who have worn the jersey for so many years and won trophies for the club," said the former defender.
"He has to try to win his trophy, which is basically saving the club. That's the thing the fans would like to get from the next owner of Rangers."
Meanwhile, former Rangers manager Walter Smith admits he is "slightly biased towards" Paul Murray's bid to buy the club but says investment should be the priority for whoever takes control.
"Although I don't know Paul that well, I worked with him over the last two or three years," said Smith. "He has made no secret of the fact that he would like to take over the club and I would hope he could do that.
"The best way ahead for the club is to get an owner who will invest in the club.
"We don't need figureheads, we don't need anything else. We need a level of finance to get us back on the straight and narrow again and that's what I hope would happen."