Rangers bidders could learn fate next week
By Matt Slater
BBC sports news reporter
Last updated on .From the section Football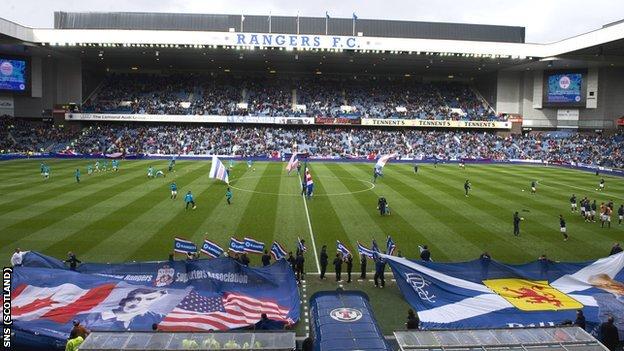 Rangers could have a new owner-in-waiting as early as next week, according to a source close to negotiations at the crisis-hit club.
Administrators have been running the Glasgow giants ever since they were forced to take court protection from insolvency six weeks ago.
Rangers have been docked 10 points, are the subject of various investigations and have imposed pay cuts on players.
Despite this turmoil, five bidders have emerged as potential buyers.
And two of those are described by the source as "strong".
These are the Blue Knights consortium led by former Rangers director Paul Murray and a US group fronted by Club 9 Sports, who have failed in previous bids for Sheffield Wednesday and Tranmere Rovers.
However, there is no guarantee that any of these bidders will eventually own the club, with liquidation still a possibility.
If all goes to plan - and it is a big if - joint administrators Paul Clark and David Whitehouse will either give one of these bidders "exclusive" status early next week, for which they will have to pay, or one will be chosen as the "best and final" offer possibly by close of play on Wednesday.
Sale Sharks owner Brian Kennedy was the other serious bidder for the Scottish champions, but his offer was considered to be too low.
He told BBC Scotland on Thursday that he was now walking away from the negotiating table, voicing his "disappointment" at the breakdown in talks but not his surprise.
"I was only going to get involved for the good of the club," the home improvements millionaire explained.
"I am glad the process is now moving on and I hope the administrators now go with the Paul Murray/Blue Knights bid as they have the best interests of the club and supports at heart."
This view would certainly tie in with the mood among the supporters as Murray's consortium has the backing of the three largest fans' groups.
But there are still concerns about the ability of Murray and his partners to do a deal with Craig Whyte, the man who still owns 85% of the club's shares and remains the only secured creditor at Ibrox, although that is likely to come under legal challenge at some point.
In fact, there are likely to be a number of legal challenges surrounding this sale, as Whyte funded his takeover of Rangers last May using money borrowed from Ticketus secured against four years' worth of season-ticket sales.
That £24.4m deal now looks precarious but the London-based firm will not take a loss that big lightly.
Duff & Phelps' "best and final" bid deadline of Wednesday should also be taken with some caution, as two of the bidders are apparently seeking to extend that deadline, as was the case for the Friday deadline given a fortnight ago for declarations of interest.
Given all this uncertainty, it would probably be unwise to completely rule out Kennedy from re-entering the fray at some point over the next few days.
A serial dealmaker, the Hibs-supporting Kennedy has repeatedly described himself as a reluctant owner or "backstop option" but his bid has been described by sources as very thorough.
And there is, of course, one other great variable in this, the impending decision from the First Tier Tax Tribunal on Rangers' use of Employee Benefit Trusts (EBTs) going back more than a decade.
The Old Firm institution faces a bill of up to £75m if the tribunal rules that its use of EBTs during the period the club was owned by Sir David Murray amounted to tax evasion.