Diego Maradona confronts 'coward' fans following match
Last updated on .From the section Football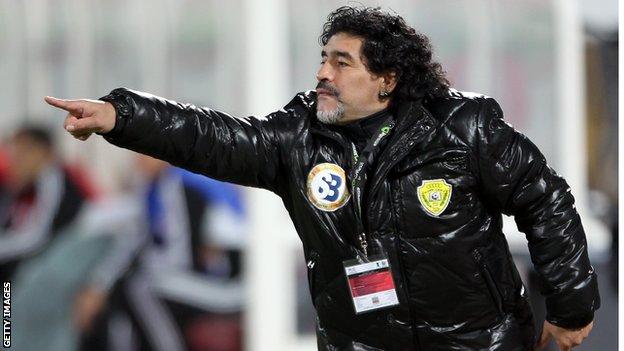 Diego Maradona has called opposition fans "cowards" after allegedly being involved in a confrontation following a match in the United Arab Emirates.
The trouble started during his club Al Wasl's 2-0 UAE Pro League defeat at Al Shabab, whose fans allegedly started abusing players' wives and girlfriends.
Maradona is understood to have climbed up into the stands to protect his wife.
"Some people are cowards," Maradona told Gulf News. "They only attack women and have no courage to confront men."
He added: "This is the first time I am upset with the fans. If they are angry with me they should know that I [climbed the stands] for my wife because someone was calling her names.
"They shouldn't be angry with me, they should be angry with the people who did this. They are cowards, not real fans.
"I accept defeat but I am not happy with what happened against the fans tonight."
Security, players and Maradona helped wives and girlfriends to exit Al Wasl's stadium, based in the United Arab Emirates. Local media reported that no one was hurt.
It was also reported that Al Wasl player Juan Ignacio Mercier's girlfriend tripped and fell down the stairs as she left the venue, with Mercier then helping her to safety.
Al Shabab coach Paulo Bonamigo told Gulf News that he had not seen the incident.
"By the time that was happening we were already down the tunnel," he said.
"I don't think it had anything to do with our players. So it wasn't a problem with us. I have no comment."
Maradona, who led Argentina to the quarter-finals of the 2010 World Cup, signed a two-year contract with the club in May.
Al Wasl are currently fifth in the UAE equivalent of the Premier League - the UAE Pro League - 15 points behind leaders Al Ain.