Wolves must beat Bolton, says former boss Mick McCarthy
Last updated on .From the section Football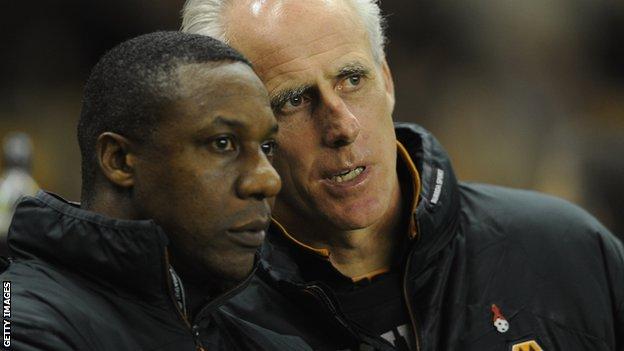 Mick McCarthy believes that Wolves must beat Bolton on Saturday to have any chance of Premier League survival.
The former Wolves manager thinks that Terry Connor's side need all three points against one of their relegation rivals.
The Black Country side are four points behind 17th-placed Bolton with just eight games of the season to go.
"They've got one chance on Saturday for me - it is a must-win game," he told BBC Radio 5 live.
"If you were asking me this question, and I was the manager still, I would say there were another six or seven games.
"But with Stoke away and Arsenal at home to come, if we don't beat Bolton at home I would be very surprised if we stay up," he said in an interview to be broadcast on Saturday.
Connor replaced McCarthy as manager in February, and the 53-year-old feels that his former assistant has all the attributes to make a success of the job.
Connor's first game in charge brought a 2-2 draw at Newcastle United on 25 February, but his side have suffered four consecutive defeats since to leave them rooted to the bottom of the table.
"Terry is very strong-minded, single-minded and methodical," McCarthy said.
"I think that he will make the best effort of it, without any doubt. Results may say otherwise, but I think he is doing a good job.
"He is more than capable of doing the job, as he is a fabulous coach."
McCarthy believes that the players' experience of being in a relegation battle last year will hold them in good stead in the last eight games of the Premier League season.
The former Republic of Ireland manager pointed to their reaction after being beaten 3-0 by Stoke at the Britannia Stadium on 26 April last year.
Wolves drew with Birmingham in the next game, then beat West Brom and Sunderland to secure their Premier League status, and McCarthy is hoping for a similar response this season.
"I have a message for the players," he said.
"We stayed up last year because we stayed together. There were no divisions amongst them. They were all biting and kicking and spitting and scratching.
"They were desperate to stay up. That is what they have to do on Saturday - if they do they give themselves, TC and Wolves a chance to stay up."
McCarthy acknowledges that he still feels a strong emotional connection to the club that sacked him last month.
"I can't detach myself. I was on the beach in Miami for one game, and I was getting messages by text," he said.
"I was going through agony, and I said to my wife: 'Why the hell am I doing this? I ought to leave it and just let it go.'"
Wolves sacked McCarthy in February after a 5-1 home defeat to West Brom in the Black Country derby, and he says that he was upset by the negative reaction of the club's supporters after the match.
"Having to leave out of the back door after the West Brom game was a real insult to me. I hated that," he said.
"I had five-and-a-half fabulous years, and I thought that a sad way to end my very successful and happy time."
"But the majority of Wolves fans have been so supportive. The amount of mails and emails, it was impossible to answer them all and for that I apologise."