Cardiff City's Kenny Miller backed to end goal drought
Last updated on .From the section Football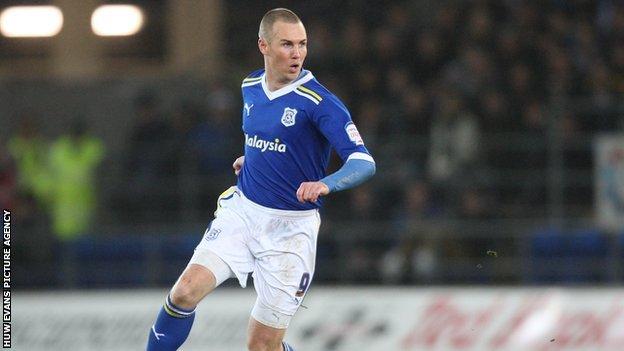 Striker Kenny Miller has been backed by Cardiff City boss Malky Mackay to end his recent goal drought.
The 32-year-old, who is fit and available for Millwall's visit on Saturday after recovering from an ankle injury, hasn't scored in his last 13 outings for the club.
But Bluebirds boss Mackay has dismissed the Scottish international's recent barren spell in front on goal.
"He is working as hard as ever," said Scotsman Mackay.
Miller came off the bench for Cardiff's 1-1 draw with Birmingham City and missed the 2-2 draw with Coventry City.
But Mackay has been happy with the performance of his striker and main goalscorer, and is confident Miller will rediscover his scoring habit in front of goal.
"Like any striker you have times when you don't score, but you create and set up chances," said Mackay. "It doesn't affect him.
"You just have to keep doing the right thing and sometimes it comes and sometimes it doesn't."
The Bluebirds striker's lack of goals mirrors his side's recent run of only two wins in 12 games in the Championship, but he is expected to return to the starting line-up for the visit of the Lions.
Filip Kiss and Rudy Gestede join Miller in being fit after a week's break from a hectic fixture schedule, which has allowed the Bluebirds to enjoy some treatment and training.
"He has had a full week's training and Filip Kiss has had a full week's training, which is very pleasing," said Mackay.
Mackay also dismissed City's recent form and the manner in which his side's push for a play-off place to the Premier League had stalled.
"We have been beaten once in six [games]," said Mackay.
"Teams are fighting for their lives and this league throws up results every week. That won't change and hasn't changed in the 15-odd years I have been in this league.
"It's a tough league and goes right to the wire, both at the bottom and the top."
Mackay refused to be drawn on remarks from former club captain Darren Purse that Bluebirds fans needed to lower their expectations about Premier League football next season, as well as BBC pundit Robbie Savage's claim that Cardiff would make the play-offs but miss out on promotion.
"It's fine that people say what they believe, that's why there are pundits and commentators, but I deal with the reality of what we are and where we are," said MacKay.
"People write us off and say we are going to be European champions. I don't care, it makes no difference to the way that we prepare."
MacKay admitted he expected a "tough game" against Millwall and paid tribute to the work of former Swansea City and now Lions boss, Kenny Jackett, at the London club.
"Millwall have done really well under Kenny Jackett," said MacKay. "He has stabilised the club."