Rangers' liquidation not Ally McCoist's preferred option
By Alasdair Lamont
BBC Scotland
Last updated on .From the section Football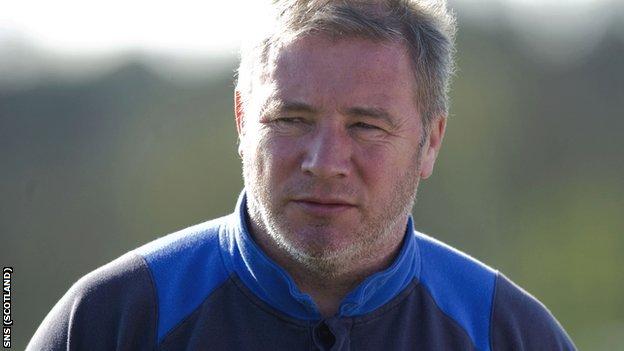 Rangers manager Ally McCoist admits he understands why a new owner of the club may want to liquidate it.
"Liquidation would not be my preferred option as a supporter and indeed as the manager of the club," he said.
"Sitting here as a businessman, it might be the way ahead, but as a supporter, with a love of the club, it wouldn't be the preferred option.
"I can totally understand the business angle and it probably would suit a lot of business-minded people."
With Sale Sharks owner Brian Kennedy's bid for Rangers having been rejected on Thursday, four offers remain on the table for the club, which has been in administration since mid-February.
One of those bids has been made by Paul Murray's Blue Knights consortium and McCoist has already held discussions with the former Rangers director about his plans.
Now the manager, who would prefer Rangers to exit administration via a company voluntary agreement, will meet other parties interested in buying the club as administrators edge closer to identifying a preferred bidder.
Consortia based in the United States, the UK and Singapore are also believed to have notified administrators of their interest.
McCoist said: "I don't have a preferred option.
"Brian is out of the equation and Paul is the only other interested party that I've met.
"But I have been in constant contact and dialogue with the administrators and they are keeping me up to speed with other bids.
"They've said to me that other potential purchasers would like the opportunity to meet with myself and ask me a few questions and I would like to do the same on behalf of the club."
McCoist will play for a Rangers veterans side against a team of former AC Milan stars at Ibrox on Friday evening.
"The fans have been amazing in troubled times and they will have a treat tonight at the Legends game," he added.
"We all might get a little bit older, but you don't lose the competitive spirit."