Arsenal manager Arsene Wenger receives Uefa ban & fine
Last updated on .From the section Football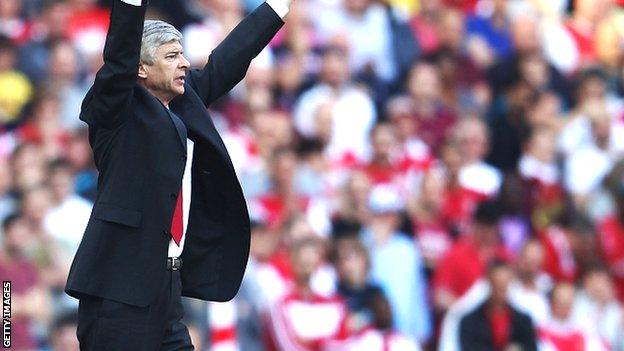 Arsene Wenger has been banned for three matches and fined 40,000 euros (£33,000) for his conduct in Arsenal's Champions League defeat by AC Milan.
Wenger confronted referee Damir Skomina after his side's 3-0 second-leg win at Emirates Stadium, which could not prevent them losing 4-3 on aggregate.
"It's not justified and I will straight away appeal," said Wenger, who has three days to lodge his complaint.
The Frenchman has now received three Uefa bans in the space of a year.
This latest punishment comes after he took issue with Skomina on the pitch after the final whistle.
He also criticised the Slovenian official in his post-match comments, claiming too many free-kicks were awarded to Milan.
Speaking before hearing of his reprimand, Wenger commented: "I believe that they have transformed Uefa competition referees to be untouchable icons, where you cannot even have a word.
"The only thing they understand after the game is the report.
"I believe that when you have 25 years consecutively in Europe you can still ask the referee that you can have some discussion with him. It is very difficult to understand."
Uefa gave Wenger a one-match ban for confronting referee Massimo Busacca following Arsenal's European exit to Barcelona last season.
The Gunners boss was then handed a further two-match suspension in August for violating his Barcelona ban.
That was the result of him communicating with the Arsenal bench from the stands during Arsenal's Champions League play-off tie against Udinese.
"The first time was not justified," Wenger added. "The second time was a joke because they told me what to do and afterwards they told me 'no, sorry, that was wrong'.
"So at the moment I have difficulties with Uefa and I can take what is wrong on my side, but in these different situations I think they go a little bit overboard if they suspend me."